Al Rehab Susan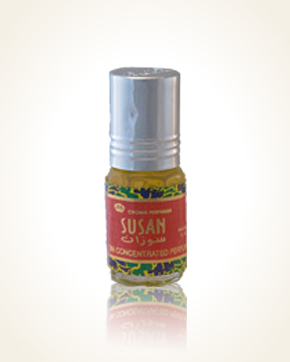 Al Rehab Susan
Concentrated Perfume Oil 3 ml
Out Of Stock
Concentrated Perfume Oil Sample 0.5 ml
Out Of Stock
Notify me when available?
Description
A pocket pack of oriental perfume, the big advantage of which is the small size (3 ml of pure perfume) so that it fits even in the smallest purse or pocket. In addition, perfume is very easy to apply using a ball in the bottle cap. So you can always have your favorite fragrance with you.
Beautifully set jasmine, which binds neroli with citrus scent of pomelo. Gardenie, together with soft sandalwood and incense, brings us into a very pleasant overall winding of this perfume. Finally, there is an intense trace of lily with jasmine.

Customer Reviews (5)
Al rehab Susan. I personally adore lilies. But by composition I was wondering how it would smell. Parade. Of course, I smell the lily first and then the special incense. Then orange blossom and wood. Finally jasmine. It's just a luxury. Please keep in stock. Thank you (26.08.2020 - Dominika J.)

Susan perfume is also magical-when I smell it, so the smell seems familiar only I can not remember where ... Thank you very much for trouble-free order processing and sample !!! I am looking forward to see what the reaction of the surroundings will be :-) and I hope to return to you soon ;-) (25.5.2017 - Ivana B.)

Today I received from you Mrs. Lenko and Jano shipment. I was delighted as a small child and immediately plunged into its contents. I am a big fan of oil smell designs, and I was very pleasantly surprised. Olejíček Susan. Jasmine Paradise ...... After the colleagues in the office responded positively and especially my husband, I prefer (rather than disappeared) to order more pieces. Thank you for your perfect service and attention. Your fragrance world is a paradise on earth for me. I wish you, as I am - satisfied clients. (12/11/2016 - Alena V.)

SUSAN - I wouldn't have dreamed that I would like jasmine, this one is beautiful soft, nothing heavy. In conjunction with gardenia, incense and sandalwood is breathtaking. Thank you very much again, you are a perfume witch. (11/5/2014 - Veronika H.)

Susan - the description warned me that it was a jasmine scent, so I waited for the olfactory sensation that jasmine creates on my skin. But there was a big and pleasant surprise. And I know what it is. Gardenia, I love it here. And incense, which I love too. Oily, as if he lived his life, changing from downright floral to citrus smoke. Beautiful and excellent stamina as a bonus. (5/15/2013 - Simona J.)

Have you tried one of our perfumes?
Let us know
how you like it!
Notify me when available?
You might also like