Surrati Royal Musk Pomegranate Raspberry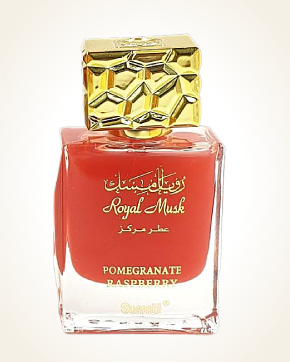 Surrati Royal Musk Pomegranate Raspberry
Eau de Parfum 100 ml
In Stock
Eau de Parfum Sample 1 ml
In Stock
Description
Seductive, even irritatingly erotic - this is the fragrance of softness and sensuality, which brings musk in gourmet connection with exotic scented pomegranate and delicious raspberry, presented in the Royal Musk Pomegranate Raspberry.
The cubes of juicy pineapple with a few balls of spicy blackcurrant are slightly submerged in raspberry nectar, showing the aroma even more as a gourmet fruit-into-geyser.
The floral aria will resonate with a cascade of honey-soft freesia colors, to which they add their delicate tones of orange blossoms with an echo of a tenderly intoxicating, which in all its splendor presents a snow-white musk.

Customer Reviews (2)
ROYAL MUSK POMEGRANATE RASPBERRY- musk and candy. Thank you and have a nice spring day. (19/04/2021 - Zdena M.)

SURRATI ROYAL MUSK POMEGRANATE RASPBERRY - the first scent evokes the idea of a fruit cocktail, which I enjoy in the glow of the sun's rays somewhere on the beach with the singing of seagulls and sea waves. From afar there is a delicate scent of flowers of many kinds and colors. After a few minutes, the musk takes over and the fruit and flowers disappear into the background. The scent is soft, light as a summer breeze, soft as a cobweb. A fleeting caress that shakes ... (10.06.2020 - Lenka S.)

Have you tried one of our perfumes?
Let us know
how you like it!
You might also like