Surrati Royal Musk Patchouli Apple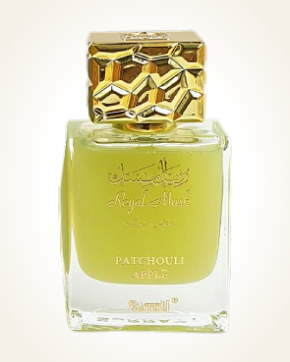 Surrati Royal Musk Patchouli Apple
Eau de Parfum 100 ml
In Stock
Eau de Parfum Sample 1 ml
In Stock
Description
Seductive, even irritatingly erotic - this is the fragrance of softness and sensuality, which brings musk in conjunction with the crunchy juicy apple and dreamy patchouli green, in the perfume Royal Musk Patchouli Apple.
Slices of apple undergo a transformation from slightly acidic tones, through the delicious aroma of ripe juiciness to refreshment, along with iced green tea, in which the melted crystals slowly dissolve.
Surrender to the sparkle of musk chords glittering with echoes of woody note patchouli that will start the serenade with a floral lure with a main note in the slightly fruity color of a rare iris.
The final performance belongs to grasses, showing their fresh line with fleeting shades of dried stalks again in harmony with the lightness of musk.

Customer Reviews (4)
Greetings to all nice ladies in Anabis :-) and I'm looking forward to new scents again. Last time I was excited about (thank you very much again) :-)) Surrati Royal Musk Patchouli Apple - a wonderful juicy aroma of lots of green apples with musk, where you can smell the freshly soaked soil after the rain ... magical gentle soft fresh ... ( 04/26/2021 - Romana V.)

Greetings to the fairytale kingdom of Anabis. Four samples from the Surrati company, four treasures telling the story of summer .... SURRATI ROYAL MUSK PATCHOULI APPLE - the night gives way to the morning dawn. Lush dew dripping on the blades of grass like thousands of diamonds. The gentle breeze loses in the foliage, the earthy scent of the moist soil brightens the senses and the first rays of the sun suggest a hot summer day. (05/27/2020 - Lenka S.)

It's a fresh summer morning and I walk barefoot through the dewy grass. I took a juicy green apple in my hand and bit into it. From somewhere in the distance, something fresh, slightly pungent, blew to me, something like a gust of fresh air after the rain, damp clay. This is how summer smells like ROYAL MUSK APPLE PATCHOULI (22.05.2020 - Dita S.)

If you had just spoken the word patchouli to me until recently, I would probably cross myself and say, "God forbid." Patchouli is an excellent scent fixator, I know, but I once sat next to a woman in a several-day seminar who used undiluted essential oil from this plant instead of perfume. This aversion would probably remain with me forever, if it weren't for the series of successful "muskrats" from Surrati. I tried them all, Apple's Patchouli remained in the end… and curiosity won out. My long-standing hostility to this perfume ingredient was replaced by a surprise… instead of the moist-earthy-pungent aroma that I had in mind, I smelled a fresh, soapy powdery scent with a slight breath of earthy-spicy scent that makes the perfume very interesting. No, I'm not writing a fairy tale, I haven't become a lover of patchouli myself yet, but I have to admit that the creators handled this topic very well. (29/04/2020 - Petra P.)

Have you tried one of our perfumes?
Let us know
how you like it!
You might also like