Surrati Royal Musk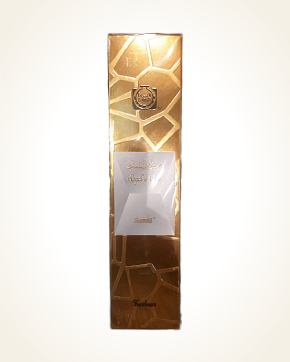 Surrati Royal Musk
Air Freshener 500 ml
In Stock
Description
Tender as a caress, as light as a feather, this is the Royal Musk fragrance as a freshener. Surround yourself with the scent of musk cloud purity.
Seductive, even irritatingly erotic - this is the smell of softness and sensuality, which brings musk.
The perfume shines with heat, while showing icy freshness ... it's the heat of the night and the coldness of morning dew.
Transparent white luxury, an exclusive touch of presumptuous seduction - an intensity that binds you and lets you go.
Oriental air fresheners are very pleasant and delicate scents that you can use throughout the apartment, but also in the interior of the car. If you spray the air freshener in the room where you have a carpet or sofa - the scent will stick to them and for a very long time pleasantly scent the entire space. Shake spray well before application.

Customer Reviews (1)
Hello, I received an order from you and I must say that the SURRATI ROYAL MUSK air freshener really lasts to smell in the air and smells the room very beautifully. Thank you for the samples, they all smell very nice. Greetings (04.09.2020 - Radka T.)

Have you tried one of our perfumes?
Let us know
how you like it!
You might also like