Surrati Royal Musk Blueberry Grapes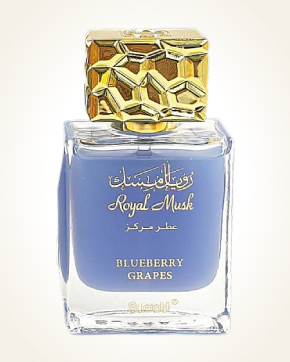 Surrati Royal Musk Blueberry Grapes
Eau de Parfum 100 ml
In Stock
Eau de Parfum Sample 1 ml
In Stock
Description
Seductive, even irritatingly erotic - this is the smell of softness and sensuality, which brings musk in gourmet connection with delicious blueberry and ripe grapes.
Grape wine with a typically sweetly bitter aroma, harmoniously complemented by powdered tulips with notes of fresh citrus, which are aerated by water spray geysers. Drops of water adhere to the chords of creamy ylang - ylang.
Another floral fluff is represented by delicate tender peonies, very pleasantly in harmony with the sensuality of musk clouds, to which a haze of precious trees enters, along with a fruity echo of forest blueberries.

Customer Reviews (2)
SURRATI ROYAL MUSK BLUEBERRY GRAPES Hello, thank you very much for your fast deliveries, gifts and especially for you and the wonderful scents that you bring us. I tried about 20 samples with you and in the end (although I really didn't expect it at all) I ended up with this scent, I found a treasure. The scent is beautifully creamy, sometimes it feels sweeter, sometimes slightly bitter with that creamy undertone, but always perfect. After the first squirt, it first reminds me of the bitterness of green tea, but then it turns into a creamy one and it's an incredible combination. I have a problem with most perfumes that they start to smell pungent on my skin (I'm diabetic and sometimes I feel a hint of the stinky insulin in the scent) and most of the time I'm not even able to choose anything, so this scent is an absolute luxury for me, and now I say, that I don't want another one (but I'll want another one, I know :-D. Thank you for the amazing scent labels, I read them before bed, just A Thousand and One Nights. And thank you for the added reviews, because it's sometimes a really magical sequel: -) (02/25/2022 - Eva K.)

Hello, I'm a big fan of Surrati Royal Musk and I buy it repeatedly. She didn't give me any curiosity and I tried all the new patterns in their line. Um - wow, that's a drop off, right? Perhaps I will "need" them all, there is no one that does not smell me, they are so sophisticated. I am currently fooled with blueberry Musk Blueberry Grapes. When I close my eyes I wash the blueberries, some crush and its juicy taste rises to the nose, it is the smell of summer, and to open an archive bottle of wine, when you smell the star about blueberries. The water flowing through the blueberry flood is again like sparkling, the droplets scattering the sweet sugar from the grapes, leaving the freshness connected with the musk. Really beautiful. (10/03/2020 - Petra H.)

Have you tried one of our perfumes?
Let us know
how you like it!
You might also like