Surrati Lailat Al Khamees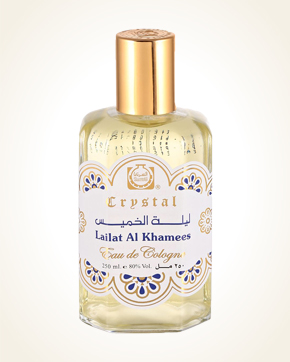 Surrati Lailat Al Khamees
Eau de Cologne 250 ml
In Stock
Eau de Cologne Sample 1 ml
In Stock
Description
Cologne water stroke is a novelty from Surrati, which brings a light scent to the whole body, especially after a bath, or whenever you want to experience a fragrant shower - reach for the Eau de Cologne Crystal.
White grouping of flowers that sounds purity and softness lists the key in jasmine, cool lily with delicate lily of the valley and creamy stroking ylang - ylang. Opulent chords are bestowed with a sweetish seductive magnolia, whose beauty is accompanied by vanilla tonka with a slight echo of exotic fruit undertones.
Cologne perfume bottles are not packed in boxes.

Customer Reviews (1)
Dear Leni, I have ordered some treasures from you for which I thank you very much and I want to share your impressions with you. Surrati Lailat al Khames - starts inconspicuously with the scent of a bunch of flowers freshly picked from a garden or meadow; and it is bitter for a while, then bitter to bitter, then it is honey and the oriental seductiveness of the well-known Noora from Swiss Arabian, which I once used, also takes on a different path. I took the cologne on the pass blind - I do not regret and they also look beautiful in my fragrance box - 250 ml flasks inspire respect. And I am enchanted by the beautiful Shaikhah skin of Al Rehab from the formulas - Leni wakes me up again Leni, I wish you a wonderful summer. Your dependent customer (10/07/2019 - Sylva F.)

Have you tried one of our perfumes?
Let us know
how you like it!
You might also like