Surrati Black Crystal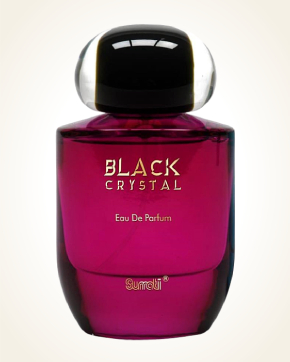 Surrati Black Crystal
Eau de Parfum 100 ml
In Stock
Eau de Parfum Sample 1 ml
In Stock
Description
Fruity oud perfume Black Crystal impresses with its seductive sweet note both women and men.
Gourmet forest fruits attracted to their gourmet gillnets, where the scents of dark blackberries and blueberries are fully heard, to which their delicious chords are added by raspberries and tiny wild strawberries embraced by a mysterious, woody smoothing - oud oil. Oud, in combination with fruit, softly sounding, does not stand out, but very pleasantly complements the fruit trail and shows the depth of the perfume.
After a moment, flowers enter the scene, the tones of which will royal royal roses, the powdery tenderness of orchids and the opulent scent of white tiare with a light green note in the background.
Sinful gourmet pralines melting into whipped vanilla foam with cherry sorbet will sound in the final aria of this seductive composition.

Customer Reviews (4)
Thank you from the bottom of my heart for your services. The scent is beautiful, just a hit in black. Ordered on Friday and on Monday I already had a fragrant package at home. Perfume patterns as a gift were very pleasing, as well as a handwritten message. You are amazing. (10/04/2021 - Dagmar D.)

Hello, today I received another perfume of yours and a stone again! SURATTI BLACK CRYSTAL is a really wonderfully gourmet, woody scent. Chocolate, fruit, vanilla, flowers all go well together. Pleasant sweet, but not oversweetened, aroma exactly according to my ideas. Thank you for the advice and quick processing, I will continue to order. Have a nice day. (19/04/2021 - Radana H.)

Jesus, that's delicious. The creators of Black Crystal "pretty much" got rid of it and created probably the most edible scent I've ever felt :-D Sweet, balanced, to eat. (10/30/2020 - Paul F.)

The smell seems to me and what is distinctive in it - I would define it as :-D a box of chocolates that you bite and feel the taste and smell of fruit and flowers drenched in thick chocolate, or something like a chocolate fountain where pieces of fruit float and flowers fall into it: -D (February 11, 2020 - Karolína P.)

Have you tried one of our perfumes?
Let us know
how you like it!
You might also like