Surrati Banafsaji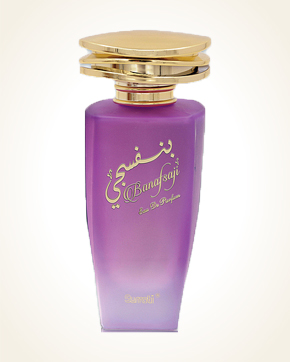 Surrati Banafsaji
Eau de Parfum 100 ml
In Stock
Eau de Parfum Sample 1 ml
In Stock
Description
The sparkling aroma of lilacs, full of all nuances of pink and deep burgundy colors, begins with the floral lure of Banafsaji.
The gourmet wave in the form of forest blackberries and blueberries, with a creamy vanilla pod, crept in with a great deal of vigor. In a slight tease of piquancy, a nutmeg with black pepper is shyly hiding to whip up the whipped apricot mousse with chocolate shavings into a delicate sensuality.
Now the opulent gardenias resonate in the whitish intoxication, along with a sweetly lush tiara, whose strength is controlled by the cold tenderness of the musky musk.
Banafsaji is an elegant beauty with a large bouquet that will envelop you with its play of seduction throughout the day.

Customer Reviews (2)
I got the Banafsaji formula from a friend. So far I have avoided Arabian scents - in the vast majority of them there is something that bothers me - it does not smell. I can't use fragrances that contain too much spice, moss, patchouli, oud, skin. These ingredients reliably turn my stomach, and often my head aches soon. On the other hand, Arabian fragrances usually have a great stamina even in the hot summer, when common European fragrances quickly disappear. So I was looking for an Arab, without any distractions, which wasn't easy at all. Banafsaji fulfills this, it is a beautiful, floral-sweet aroma with perfect stamina. At the beginning of the fragrance I can clearly perceive gardenia in conjunction with a light blueberry note and a sweeter whiff of ripe apricots. Later, the fragrance takes a more floral path - lilac and tiaré. I smell chocolate in the aroma at the end and only lightly. I look forward to seeing it in the summer in hot weather. (06/04/2020 - Romana M.)

First you can feel the scent of candies, sweet candy, sprinkled with a bit of pepper. Over time, the scent becomes warm, enveloping, no longer so sweet, more spicy and feminine, intriguing, simply beautiful. (13.1.2019 - Marta, Poland)

Have you tried one of our perfumes?
Let us know
how you like it!
You might also like