Al Rehab Superman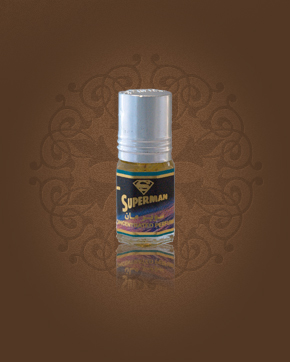 Al Rehab Superman
Concentrated Perfume Oil 3 ml
Out Of Stock
Notify me when available?
Description
A pocket pack of oriental perfume, the big advantage of which is the small size (3 ml of pure perfume) so that it fits even in the smallest purse or pocket. In addition, perfume is very easy to apply using a ball in the bottle cap. So you can always have your favorite fragrance with you.
Very pleasant perfume, from which you get a special smell of linden blossom with a smooth oriental spice headed by cloves, cardamom and vanilla. Cedarwood and musk develop the aroma beautifully and give room for cinnamon.

Customer Reviews (5)
From the first moment I wonder why this very hilarious perfume is called Superman, the idea of a comic book character is persistent. Could it be for its super qualities like strength, durability, indestructibility? Understand the distinctive fragrance going into space with great stamina, even after a bath. All right, I take my imagination to mercy, come Superman, show yourself. A fresh forest wind floats the red pearl, the sharp tip of which carries for a moment a fleeting lemon grass with ginger, which was immediately replaced by the intense onset of wild spices. In the air grinder, the spice is ground to a fine powder, the breeze carries it to the Dales, where it is trapped with a sweet cinnamon and cardamom. A gentle soap stream is added to the now thoroughly blended, nicely smoothed mixture to bring a sensual musk, ending the oriental play of a seductively captivating scent. I know why Superman. As Clark Kent transforms from a timid reporter into a charismatic hero, so does a man who uses this perfume, a man dangerously irresistible. Perfume is referred to as men's, but certainly can attract all the fans of spicy fragrances. (4/21/2014 - Andrea Ž.)

Men's fragrances FOR MEN + SECRET MAN + SUPER MAN, husband has proven and is very happy. He even had several reactions from our customers that they smell nice (29.1.2014 - Jarka B.)

Superman is amazing. For the first time in my life, I saw my guy biasing his hand to his nose with the words no fault. So I like too much. (11/5/2013 - Andrea Ž.)

Superman - cedar, linden blossom, cinnamon and ginger. I hope it will be available again. It is a fragrant bomb with excellent durability, and it reminds me a lot of Quarashi's Khaltat al Haram. (1/20/2013 - Sylva F.)

I was quite surprised by Superman, though gentlemen, I will definitely wear it myself. (March 5, 2012 - Dana N.)

Have you tried one of our perfumes?
Let us know
how you like it!
Notify me when available?