Louis Cardin Subtle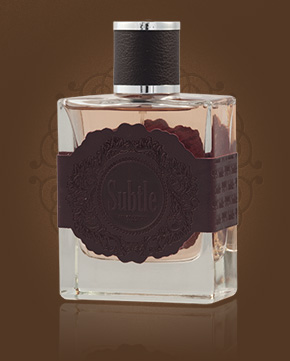 Louis Cardin Subtle
Eau de Parfum 100 ml
Out Of Stock
Eau de Parfum Sample 1 ml
Out Of Stock
Notify me when available?
Description
In Subtle perfume Louis Cardin shows us the unique scent of fresh coffee mixed with unforgettable tones of luxurious leather.
A gourmet perfume with a truly distinct aroma of freshly roasted coffee, gradually turning into a milky sweet cappuccino. The sweetness is hampered by the onset of skin tones, which, however, develop so strangely as if they were smeared with honey and sweet, slightly bitter caramel, yet with a sweetly dry dot in the end, in the form of vanilla.
Irritating, slightly refined - this is the image of this perfume, which is an interesting addition to a charismatic man, or an alluringly special scent for women.

Customer Reviews (2)
Subtle is a coffee bath, luxurious, earthy, men's, dry - but amazing. (September 24, 2014 - Jana Š.)

Subtle charmed me with a really faithful touch of coffee in several stages. First, large roasted Kenyan beans are poured into a grinder and give a bitterly opulent aroma. It grinds, mills and grinds, and in addition to the bitterness, the sweetness of the grain center is added. The beverage almost overflows with the beverage and, when poured into a warm cup, emits a slightly smoky aroma. Some of the coffee ordered a sweet dessert, so all traces of coffee roughness will be smoothed by the velvety caramelized whipped cream. (08/03/2014 - Simona J.)

Have you tried one of our perfumes?
Let us know
how you like it!
Notify me when available?
You might also like