Louis Cardin Subsense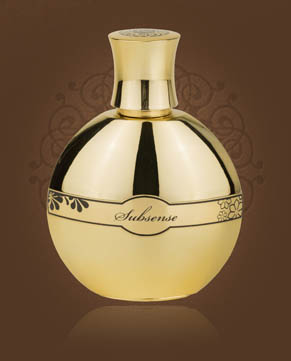 Louis Cardin Subsense
Eau de Parfum 65 ml
Out Of Stock
Eau de Parfum Sample 1 ml
Out Of Stock
Notify me when available?
Description
The whole-gold flacon conceals fruity tones, accompanied by a delicious trace of patchouli and precious woods with a vanilla lure.
The introduction is based on the sweet waves of exotic fruit, dominated by pineapple and lychee. The freshness is represented by citrus, especially orange, to which is added caramel with a creamy echo and a tenderly soft vanilla. We continue the fruit waves with blackcurrants and sweetly overripe sour cherries.
We dive into the heady balsamic depths with a herbal woody note of patchouli, which will lift the aroma into a seductively sensual tone, ending with precious trees.

Customer Reviews (2)
Good evening Mrs. Lenko. I ordered EDP Subsense on Sunday evening and I'm looking forward to it today. That's incredible speed. But you certainly understand how eager we are to order a new fragrance. I could not grow up :-). And again you hit and advised me perfectly. The smell is úúúúúúúžasná. I can't get enough of her. It's evening and I still feel the perfume around me. I am very happy and happy. And I have to share beautiful compliments with you. When I was in town this afternoon, two ladies preceded me and said, you smell so beautiful. We deliberately go all the way to you and soak up a really beautiful smell :-). And the second compliment was from our nine-year-old granddaughter. He said, Grandma, you smell so beautiful. Always use this scent :-). So Subsense hits the black. Thank you very much. I am glad that I discovered you and I will stay with your scents. I have about 30 European perfumes at home and all of a sudden I feel completely numb. So once again a huge thank you and I hope that I will not be very annoyed when I come back soon and ask for advice :-) Beautiful evening: -) (16.8.2016 - Marie J.)

Louis Cardin - Subsense - Wow, that's a dream. I can smell currants, crushed with whipped cream and dusted with vanilla sugar and lightly garnished with caramel cream. Suddenly a patchouli and rare woods pop out and perfume becomes an unforgettable symphony ... Louis Cardin is a magician and I am afraid that I will have to buy a partner for the winter for Transparent, which is the most beautiful in the summer ... (7.1.2016 - Lenka S .)

Have you tried one of our perfumes?
Let us know
how you like it!
Notify me when available?
You might also like