Khalis Shamikh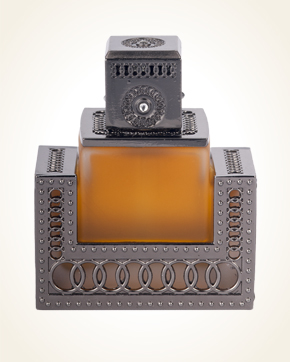 Khalis Shamikh
Concentrated Perfume Oil 25 ml
Out Of Stock
Concentrated Perfume Oil Sample 0.5 ml
Out Of Stock
Notify me when available?
Description
The combination of precious woods with a touch of citrus conjures up an irresistible composition in this unique perfume, with a rare Indian white oud oil.
Orientally decorated saffron in an embrace of orange and jasmine floats into the sweetness of sandalwood and the tender purity of musk. The subtle notes of precious resins blend in with the warm, smoky trace of the amber powder. This creates a magically attractive wave with subtle nuances of fresh citrus wrapped in the warm arms of woods with their elegance and refinement.
Let yourself be something so compellingly sensual, so desirable and enchanting as white oud oil.

Customer Reviews (7)
Dear ladies, after a long selection of samples and even ill-considered purchases of fragrances, which seemed absolutely amazing to me, but after a few days I found out that this was still not the case, I ordered both of the above fragrances. For both of them something incredible happened to me ... After the first smell of the sample, we put it with words, so this never, put it. And then a miracle happened, I gave them a chance again, and until then, I just hoped I wouldn't run out of samples until I got full packs. The scents are amazing ... they're like my scalp. Some would say that Shamikh, in particular, is on a special occasion, but no, I proudly carry him daily to work and feel great. I can't grow up in the morning to wrap up in his scent. Snakes seem finer to me, it probably will be more for summer, but who knows ... Thank you very much for the opportunity to really smell good. Sincerely,

What I can hardly resist is Shamikh ... oud, but at the same time a very fresh fragrance, which despite the application of a single drop, will last intensely smell all day. It is a fragrance of a strong woman who knows what she wants and is not afraid to go for it ... This fragrance really necessarily "need" to expand his ever expanding collection of amazing fragrances (18/12/2018 - Katka H.)

Shamikh is a mysterious sandalwood inlaid amber hiding the treasures of the Orient - precious woods, saffron, magical Oud, sensual musk ... Shamikh is a honey bath in which citrus slices and white-jasmine jasmine flowers are toned with me ... and again floating ... indescribable splendor! I look forward to the whole bottle, already to be mine! (3/12/2018 - Lenka S.)

... today I tried a sample of Shamikh perfume, it is amazing, I feel fresh citrus, in the background a little woody breath with a hint of sweetness. It is refreshing, bright day, I enjoy every breath that keeps me like a mysterious veil. (3/28/2014 - Jana Š.)

Luxurious orient with fine honey oak, woody plants, white flowers, ambergris, incense, labdan and dry powder musk. (fleeting form with the Arabic classics Khaltat Al Maha and Khaltat Al Haram) (3/25/2014 - Renée H.)

Wonderful tiny bottle with a very special captivating fragrance. As a fan of sweet fragrances, I would probably not carry her now, but I would often go to her sniff because she is simply different, beautiful. (22/03/2014 - Andrea Ž.)

... today I unpacked the package from you and I have to say that Shamikh - that's something !!! It's an incredibly beautiful and truly special smell. I do not know what I would like it to be, but it is truly wonderful. I can also feel the lemon there, just beautiful, which cannot be described in words! The scents of India attract me like a magnet, and Shamikh pleasantly surprised ... I'm literally excited! SHAMIKH - this is such krááááása !! I have no words - real fairy tale, temptation, joy and naáááádhera !!! I am convinced that all clients will be in the seventh heaven from the treasures you brought. (3/17/2014 - Lenka M.)

Have you tried one of our perfumes?
Let us know
how you like it!
Notify me when available?
You might also like