Ajmal Shadow For Her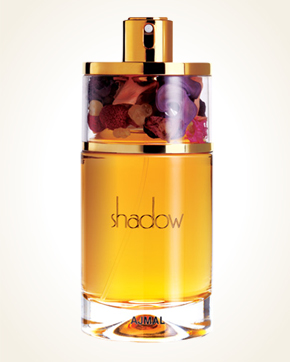 Ajmal Shadow For Her
Eau de Parfum 75 ml
Out Of Stock
Eau de Parfum Sample 1 ml
In Stock
Description
Tender, oriental flower bud that caress is Shadow for Her.
Introductory, woody tones of pink wood connect floral chords with a delicious trace of fruit and show sensuality with the first drops of perfume.
A fluffy puff of lavender with citrus nectarine will take us into a gentle dream to embrace more floral tones in their embrace.
The delicate, white orchid flowers with their deliciously sweet scent combine playful seduction with a soap-like patchouli that twists its notes into earthy woods.
The interplay of the whole perfume is complemented by a warm soft, velvety white ambergris that will show us a powdery tone that will complement the sparkling purity of white musk.

Customer Reviews (3)
So this fragrance has completely got a caress for the body and soul of the original perfume and also a gorgeous gift for receptive women. The sweetness is very delicate and the floral scent does not burden and together they form a balanced light summer pleasure somewhere in the early evening with candles and quality wine. (05/21/2020 - Andrea S.)

Hello, so we started spring and warm days with it, and I reach for Ajmal Shadow again, and I find myself dangerously approaching the bottom of the bottle. And this is a terrible blow to me, since this fragrance completely charges me, it is beautiful, tender, holder, and I find that it is not. And therefore I wonder if it will still be ??? I hope YES because I order immediately. And I also have a taste for other news, because I am really addicted to your fragrances :-) Have a nice sunny days, have a good time and health (4/12/2018 - Katka M.)

The elegant scent of rosewood with delicate white orchid flowers, a pinch of sparkling patchouli, a whiff of powdered musk and a soft ambergris gives the quality of the ingredients. Modern non-Arabian Arab. Beautiful and noble ... (21/12/2012 - Renée H.)

Have you tried one of our perfumes?
Let us know
how you like it!
You might also like