Al Rehab Secret Lady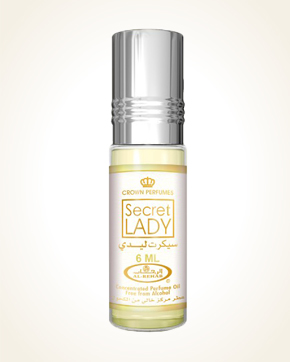 Al Rehab Secret Lady
Concentrated Perfume Oil 6 ml
In Stock
Concentrated Perfume Oil Sample 0.5 ml
In Stock
Description
A pocket pack of oriental perfume, the big advantage of which is the small size (6 ml of perfume) so that it fits even the smallest handbag or pocket. In addition, perfume is very easy to apply using a ball in the bottle cap. So you can always have your favorite fragrance with you.
A gentle, breeze-filled apple from Grandma's cake, that's the first - from the fragrant touches of the Secret Lady.
We start with the pleasantly intertwining scent of juicy, green apples and fresh lemon with a warm wave of vanilla and cinnamon. The fruity freshness dissolves in several floral tones.
For even greater lightness and airiness of perfume, musk puffs swinging above the water surface are used. The aroma is tenderly tender and juicy powder at the same time.

Customer Reviews (2)
Secret lady. Oh yes, it's one of my favorites. It's not intrusive. Feel the water ton. Thank you, (20.08.2020 - Dominika J.)

Secret Lady - I regret a little that there are no reviews of this perfume when it smells so beautiful ... I feel most apples, cinnamon and vanilla, really amazing composition ... reminds me of my childhood when my grandmother used to make cinnamon buns that I she loved so much and always looked forward to them, especially when I could sprinkle them with a lot of cinnamon ... hmmm, these are just memories and this perfume reminded me of the buns ... thank you for him ... I'm sure I will order again. .. :) (Feb 14, 2017 - Jana C.)

Have you tried one of our perfumes?
Let us know
how you like it!
You might also like