Al Rehab Sandra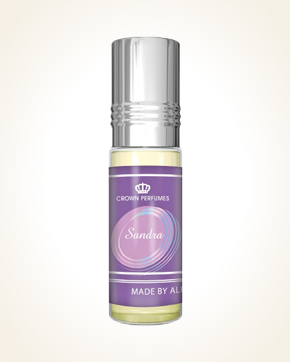 Al Rehab Sandra
Concentrated Perfume Oil 6 ml
In Stock
Concentrated Perfume Oil Sample 0.5 ml
In Stock
Description
A pocket pack of oriental perfume, the big advantage of which is the small size (6 ml of perfume) so that it fits even the smallest handbag or pocket. In addition, perfume is very easy to apply using a ball in the bottle cap. So you can always have your favorite fragrance with you.
Sandra brings a beautiful scent of violets, which are supported by caramel and a very soft tone of cedar, which hides and gently peeks again. After a while, musk is added to the violet, and just as if you can smell vanilla behind the curtain.

Customer Reviews (7)
Vune Al Rehab Sandra from the first moment to smell violet and here I really like it is earthy and different from other flowers. Dekuji (11/08/2020 - Dominika M.)

I can only describe this scent as a romantic kiss. For everyone who loves chocolate and a life full of dreams. Sweet unfriendly scent that is also attractive to children. Living your own life will calm you down. (05/21/2020 - Andrea S.)

Hello, today I opened a bottle with a scent of Sandra. It smells pleasantly of vanilla, violet, which makes me not able to smell it, but it can last longer and I would buy a bigger package. (10/02/2020 - Jolana K.)

AL Rehab knows how to smell it. An exception is not even Sandra. This is a delightful fragrance full of vanilla, caramel ... The right gourmet as it should be. Soon I will order more to stock. (09/16/2019 - Pavla F.)

Sandra-amazing gourmet scent of violets mixed with caramel, light cedar comes in and add musk and a drop of vanilla.Great endurance. (5/18/2015 - Miloslava P.)

Sandra is a really good gourmet, I have it at home repeatedly as a permanent supply. (3/16/2015 - Martina M.)

Initially sweet violets, whose intensity is dampened by a light woody line and everything slowly permeates caramel into the final delicacy form, in which I have a beautiful rich, yet delicate caramel whipped with vanilla as a filling in a pinwheel, yummy :-) Hilarious gourmet with excellent endurance. (3/15/2014 - Andrea Ž.)

Have you tried one of our perfumes?
Let us know
how you like it!
You might also like