Louis Cardin Sama Al Emarat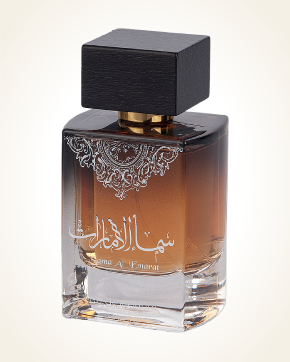 Louis Cardin Sama Al Emarat
Eau de Parfum 100 ml
In Stock
Eau de Parfum Sample 1 ml
In Stock
Description
The invitingly irritating oud oil accompanied by a sweet powdered vanilla invites you to an oriental walk with a seductive fragrance, designed for men, but I think many women who like oud's sweet perfumes will also succumb to it.
Right at the beginning, there is an oud full of woody sweet tones that oud from Cambodia can do with its captivatingly seductive footprint, which will fully show off with vanilla. The combination of seductive, slightly bitter floral echoes with a playful, warm hint of vanilla and sandalwood creates a beautiful, orientally-toned scent. Oud is not quite dominant here, but it is connected with sweet echoes and at the end it shows the fragrant grandeur it brings to the whole ambergris composition.

Customer Reviews (3)
LOUIS CARDIN: Al-Emarat Alone (sitting with sweet smoke) I sat over several samples of Arabes, wondering which one was the beautiful flower vanilla. I couldn't find it on my skin, the samples merged into one stream of dense Arabian wood with fruit and sweets. Then I noticed the thick sweet smoke, but as I brought my nose to the skin, it again turned into luxurious wood and oud. I slowly pulled my nose away and noticed that the smoke was a carrier of aromas. As he climbed, he pulled the floral and sweet vanilla tones with him and let them fully unfold even further in the air. It was the beauty I was looking for. Her name was Sam Al Emarat. I put my discovery aside and tried the smell itself the next time. The woody impression was repeated, at the beginning the oud was quite pronounced, but soon softened. Then sweet ingredients could be developed, along with vanilla and exotic flowers appeared fruit tobacco and powdered cocoa. I felt a bit like an exotic goods store where they have precious wood furniture, incense sticks and oils, sweets, flowers, pipes and who knows what treasures yet. There was a welcoming and cozy atmosphere. Al Emarat itself is mentioned as a men's fragrance, but rather it is unisex or women's perfume, because it gradually becomes more subtle, vanilla and floral. Scented tobacco and warm dry wood do not disappear but remain on the skin, thus maintaining the layered character of the perfume. I checked this later when I forgot the smell. At one point I turned quickly and my nose suddenly noticed sweet smoke. For a few moments I was surprised to realize that it was the link between flowers in the air and the wood on my skin. And one more thing about the brand: The name sounds French, but the company has a Dubai address and its core business is the production of watches. That Louis Cardin is available from us is a European rarity, otherwise it is sold only in Asian and African countries. (Oct 5, 2014 - Katka)

... as we smelled this man, so we were startled, because we never felt such a strange smell, I thought at first that perhaps it is not even smell. I thought I might be sick, but then the smell began to change until it really smelled like sweet vanilla. I cannot describe it precisely because I am not an expert. The next morning my husband used it and smelled wonderfully all over the room, we came home in the evening and it seems to me that I could still feel it in that room. So I'm really excited to watch your offer now and think about what fragrant treasures I order next time, because these beautiful scents will be love for me for life. (04/05/2014 - Gabriela V.)

This fragrance will surely delight you who loved Oudh Al Bahar, who stopped producing - there is a very similar line that sweet oud oil can do. Lenka - Anabis

Have you tried one of our perfumes?
Let us know
how you like it!
You might also like