Surrati Royal Musk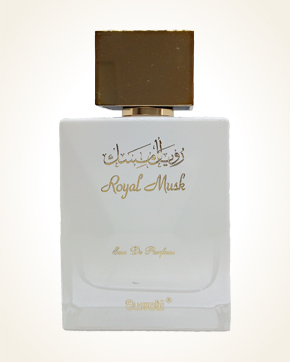 Surrati Royal Musk
Eau de Parfum 100 ml
In Stock
Eau de Parfum Sample 1 ml
In Stock
Description
Seductive, even irritatingly erotic - this is the smell of softness and sensuality, which brings musk.
The perfume shines with heat, while showing icy freshness ... it's the heat of the night and the coldness of morning dew.
Transparent white luxury, an exclusive touch of presumptuous seduction - an intensity that binds you and lets you go.

Customer Reviews (35)
Have a nice day, I received from you an amazing package with a wonderful scent of Surrati Royal Musk. She has a friend of mine and she smelled huge ... Love at first scent :) It's a wonderful scent, mysterious, delicate and charming. I'm kidnapped from her :). At the same time, I want to thank you very much for the gifts and the beautiful handwritten text ... it really pleased me ... a great rarity these days :) Thank you very much and I will certainly not only shop, but also recommend it. Have a nice time:) Regards Linda :) (23.06.2022 - Linda P.)

Greetings to all the scents sent by the girls from Anabis, I am your long-term customer, after a while I wanted to make myself happy again, I had a long time for the Surrati Royal Musk, I finally made my dream come true and I must say I don't regret it, it's really amazing, at first I was disappointed, but after a while it rang, it met my expectations, it is exceptional, special and completely unique, at the same time thank you very much for the gifts you sent me and will be another attraction, there is still something to choose from, once again thank you and I hope to make you happy again soon ... (29.11.2021 - Hanka J.)

Hello, I just opened a fragrant package and Royal musk from Surrati, so that's beautiful. As they write here under the perfume, the scent is light, tender and it is interesting that even if the first impression is like an airy kiss, the scent goes to the surroundings and you can smell it. I can really use Royal Musk in the classic version (as I say, without flavor) at any time. The musk is simply mixed in such a way that the scent is like a fragrant cloud that spreads around and goes through me. There's purity in it, just Royal musk, I don't think it can disappoint anyone, it's a beautiful, clear scent. Thank you and best regards (16.09.2021 - Hanka T.)

Have a nice day. I was really looking forward to the smell but unfortunately disappointed me. Too heavy and strong for me, so it's a shame for the money. Anyway, those who smell are great and let them enjoy it beautifully. Have a nice rest of the day. (April 22, 2021 - Lucka Z.)

Hello, thank you very much for the quick delivery and extra gifts! I'm excited about perfume, I've been looking for the scent of angel wings for a long time and finally I have it !! I'm in love right up to my ears. Well ... it's such a smell of tenderness, clear purity and sincerity. And safety. In moments when you are dealing with a life mismatch and you feel like you're slapping the bottom soon, but still in a hidden soul you believe that everything is as it should be and it's actually part of the plan ... because we each have our own angel, which will hug you. And mine smells exactly like this - Royal Musk. Your husband put it this way - it's a scent you wish you never stopped feeling. Like with love. :-)) So I lean towards my angelic version. It is not enough to read and write a list of fragrances that I need to buy from you. I'll probably have to find a second job or something. ?? Have a nice day and thank you. (05/12/2020 - Markéta S.)

Hello, dear ladies in Anabisa. First of all, I would like to thank you for being ... I love scents and I think every woman should smell wonderful. The scent adds another dimension to a woman (and a man). My collection of fragrances is extensive and I am still trying new fragrances, although I like to return to my favorites. I came across your site by accident when I was looking for a powdery, musky scent. Something similar to the Moschus oil that my mom used to use. When I saw the beautiful vials of the Thousand and One Nights, I couldn't resist. Your site enchanted me. I chose according to your amazing descriptions and reviews of satisfied customers. The first surprise was a very nice meeting during a telephone contact, the second was the incredibly fast delivery of my package. Even orders from Slovakia did not come to me the next day. But the biggest surprise awaited me when I unpacked my package. Surrati Royal Musk is something beautiful, indescribable, heavenly ... When I smelled, I felt like I was floating on a puff of scent. I've been looking for this scent all my life, it's amazing. I almost cried with happiness. Afnan Musk Abiyad is also a wonderful scent, it reminds me of Chloe. But I know that Royal Musk became my love. Thank you also for the nice gifts. I wish you many satisfied customers, to whom I already belong. (14/11/2020 - Eva J.)

Good day everyone. I don't even know where to start. A colleague at work always smells wonderful, like chocolate. How many times we miss, but we know she was there. The smell is great. When asked what the hell so nice vonis led me to you and poured into my hand specimen. I slowly begin to believe in God. The other good was clear. Surrati-royal musk !! Web, search, cart, buy and was home. Oh, the smell, unreal. Everything in it, as the other ladies write, is alluring. I wouldn't say it better. Divine, distinctive yet so gentle, irritating! I wish I could bathe in it. As for delivery. Tuesday afternoon booked with me on Wednesday morning. Perfume already smelled from the box, plus two samples and talking about oriental perfumes. To the big surprise, on the other hand, an invoice that was manually signed with a donation probably from the shop owner. Yes, a question of 20 seconds. But it was so pleasing. Even pleasure could be matched by perfume. In short, customer care, a piece of time for him. Thanks. Great thanks for being what you do and how you do it. I keep researching your offer and ordering further. Thank you once again! (27/02/2020 - Klára K.)

Today I received the Surrati Royal Musk, which I ordered "blind" according to other customers. I'm totally kidnapped. It's a musky smell, but there is something seductive, sparkling, and absolutely famous. I must confirm that the evaluation of its uniqueness is true. Thank you very much. P: S: Samples sent to order "sniffs" later, now I will enjoy this charming scent. (10/18/2019 - Hana H.)

Royal musk surprised me very nicely. I appreciate that this musk is not somehow vigorous, it is so tender, elegant, and fresh at the same time (13.10.2019 - Pavla F.)

Good day nice ladies, tsar or almost smell of Arabic perfumes I too. I'm captivated by the smell of pizza. My favorites are clearly the SURRATI ROYAL MUSK perfume water and AFNAN MUSK ABIYAD perfume oil. They are both gorgeous, fleshly, but at the same time I feel very attractive, feminine self-confident with these fragrances. For me, they are the ones I knew inwardly, but I haven't discovered them in any perfume yet. It occurred to me that they smell like linden flowers or bases, or agates, which I cannot cope with in nature, I just feel good through my nose and life is beautiful. Here are both perfumes for me. So far, I only have them in the form of samples, but I can't wait to buy whole bottles for the next month. Probably both at the same time. Thank you again. (14/06/2019 - Iveta Š.)

I'm kidnapped. Great, gorgeous, sexy scent. Maximum satisfaction. Highly recommended (10.4.2019 - Eva U.)

For me, Royal Musk - capriciousness - carelessness ... has a very sensual effect on me. Your fragrances are very appealing. Well thank you. (9/29/2018 - Jana B.)

Finally, I'm literally addicted to the musky beauty of Surrati Royal Musk. That's the total love of my nose :-) Although I buy the most according to your valuable reviews (thanks for them), but slowly but surely I'm starting to plan a personal visit to you (for which I travel through almost half of the Republic really worth) sons, who spit in my ear several times a day "Mom, you smell beautiful" (and I owe it to the scent of Anabis, thank you girls ;-)) Have a nice day and again sometime next time (11.9.2018 - Katka H.)

Hello, Your perfume has been so successful with my daughter that I order it as a present for her birthday. Thank you (14.8.2018 - Marcela W.)

I ordered this perfume Royal Musk and I am very satisfied. Waw really great smell. I can highly recommend. (12/08/2018 - Eva U.)

Hello, thank you for sending the ordered fragrances quickly and for gifts. I'm just sniffing the oriental fragrance, but I'm excited about Royal Musk, so sexy and yet pure (no cheap street girl), smells beautiful and holds on my body without bothering the surrounding area. I think I have failed these scents and I will not go to the perfume for another. (7/30/2018 - Romana M.)

Royal Musk has a friend and I really liked it, so I got to you. It's a smooth smell, a little fresh and a little sweet, but just a little. Maybe I would say more fresh. I feel I have known her for a long time, even though I have it now, something reminds me of it and not and not to remember. It is a scent that I might even pour into the bath, and the whole bath. I tell others who wrote about the scent - it's great. Beautiful days and thank you for gifts. (5/12/2018 - Petra S.)

I'm going to Anabis for a nice day. Royal Musk is very nice, she smells clean and my daughter yelled me yesterday, so she blew it for me, so I will repeat the order and not the last time. You have a moooc piece that interests me. I'm ,, resort ,, to smell and I have to have a few ... number I prefer not to write :-D. I wish you all a lot of success, the joy of work and also the pleasure of all customers I customers from the beautiful fragrances by Anabis. (4/13/2018 - Daniela S.)

Big thanks to Anabis! :-) Royal Musk is a wonderful, delightful fragrance. He brought me back to the most beautiful time in my life, when I used Moschus perfumes and oils, which are no longer produced. And after every fragrance I am more confident that Royal Musk is even better - after long years, it finally hits the black! Other perfumes from normal perfumery must now wait for the toilets to turn up (maybe) again. :-) Once again thank you very much and I will relax at your weekend - according to reviews this will not be the only fragrance I need from you. :-) (3/9/2018 - Alena L.)

Beautiful day, the package arrived yesterday at lightning speed and I thank you again for it. I came back from the dentist all painful and waiting for me at work joy and pleasure from you. I've known ROYAL MUSK perfume for a long time, but only now I thought I'd order the whole package. And I'm excited. The fragrance is soft, creamy, tender, pure. I will add any oil from you to create a divine combination. I look forward to it in the summer. Today at work upheaval of how wonderful I smell and I will order a colleague too :-) (21.2.2018 - Lenka G.)

Good evening, thank you very much for the quick delivery. I am excited about the Royal Musk perfume :-) I chose this fragrance blindly and I am enthusiastic about it, not only me, but mainly people around, because I do not feel it at all. Great price, long-term endurance.super.Recommend to anyone who asks me where I bought it. Sincerely (2.2.2018 - Kateřina M.) PS ... and also thank you for the beautifully fragrant formulas.I am really satisfied :-)

So yesterday I ordered and today came the smell. It is beautiful. I was just a little confused that I see the bottle here on the site pale blue and in fact is white. It's about taking pictures, but the smell is really beautiful - Surrati Royal Musk. And the gifts smell wonderful. Thank you very much and I will definitely order again. (10/20/2017 - Hanka B.)

Hello, Mrs. Wech, I am happy to inform you that the fragrance package has arrived on Friday and in absolute order. Thank you for truly precise securing the interior of the package against squeezing. We had to wait and it was very nice to enjoy every bottle and every sample. It was beautifully mixed throughout the room. Royal musk is a powder delicacy and as my sister remarked, it is famous. She followed me while cycling and the Royal Musk got a great compliment from her. And not just from her. Interestingly, I don't feel it at all. Neighborhood yes. It's so beautiful velvet. I can't help but feel the violets smothered in cream when I smell it. (10/17/2017 - Ivana J.)

Hello. Thank you very much. Royal Musk. I definitely recommend. Have a nice day. (10/16/2017 - Vladka. H.)

Today I received fragrance from you ... I want to thank you very quickly for ordering and for gifts. I bought 100 ml of perfume on the basis of a review and I have to say that it is beautiful ROYAL MUSK ... I have a problem because now I do not know which other fragrances I have to choose. All the samples I like ... Hold on have really excellent, with our fragrance outside of the perfume can not compare ... Once again thank you and I all happy and a lot of happy customers :-) (5/10/2017 - Erika S.)

Royal Musk by Surrati If I were a poet, I would write an ode on him, unfortunately I am not. He's just amazing! I was already saturated with perfume from perfumery. I had what I wanted and had a new one and no choice. Then I discovered your site and based on reviews ordered Royal Musk. The first scent and Chanel 5 has already wandered to the table for sometime ..... Royal Musk just won't give you, if I smell it, spray on your wrist and then sniff myself. You understand ?! (5/31/17 - Mila G.)

Today I received a Royal Musk perfume, which I recommended colleagues from work and I am excited, the samples of Arabian Gems Blue and His Excellency are also amazing and certainly I also order perfumes. May 24, 2017 - Jaroslava B.)

Hello, today I got the smell of ROYAL MUSK I ordered it only on the basis of reviews, so I had less worry about whether it will fit me. Thank you very much for gifts and personal message - which is not seen today !!! I wish you many nice and fragrant days. (5/16/2017 - Daniela K.)

Dear Sirs, Not Musk Like Musk. I've tried some musk perfumes, but Roayl Musk from Surrati is no match. It is purity itself. The big advantage is that you can "cover" musk with a different scent. This gives you another kind of scent. I mostly smell Sabaya. I am very pleased with the smells and approached by Mrs. Lenka. I recommend wherever I go. I wish many satisfied customers. (3/26/2017 - Gabriela V.)

Royal Musk This is for me indescribable beauty and love right after the first smell! I chose the sample according to reviews and the smell far exceeded my expectations! I wanted to order the perfume next month, but I became so dependent on the fragrance that I have to have it now and at all costs :-) Once upon a time I used Moschus, which is no longer produced and I never found a better fragrance - until now ... I must say that Royal Musk overcame him ... I can't even describe what I feel in it, the smell doesn't remind me of anything I know. Thank you so much for it !!! Have a nice day! (3/18/2017 - Žaneta B.)

Hello Mrs. Lenicka and Janicka, Royal Musk ... this is a intoxicating darling !!! ... love for the first smell !!! My nose doesn't want to give up that splendor ... I experience sensual pleasure and infatuation. Today I don't mind my husband coming back later ... It's a wonderful moment ... Thank you for the cool email. I'll be glad to come back to you. Have a nice evening (2.3.2017 - Pavlína F.)

To date I own a total of three white musk scents: Al Alvani - Rooh Al Musk, Surrati - Royal Musk and Afnan - Musk Abiyad. All three are gentle thanks to musk, thanks to the flasks very original, each differentiated by different grasses, woods, perhaps even citrus ..... They are soothing, clean, suitable for moments of relaxation, rest, but also for everyday use, they are unobtrusive, it clings to the body, but at the same time it smells. They are of high quality. I made my dream come true. Thank you, ladies from Anabis, for bringing us such pieces. At the same time, I greatly appreciate the redesign of your site, which is now very clear and very often I will enjoy it. Hopefully I will make another dream come true - look in Dubai. I wish you many happy customers and I wish you all a lot of health and many beautiful scented moments. (11/1/2016 - Helena B.)

Surrati-Royal Musk - sexy mysterious, almost captivating fragrance, is lightweight, yet so tenderly sensual, ... I wear it, just a gem ... flakonek is beautiful, dense ... thank you for the samples, breathtakingly smells .. .haky thank you for the treat ... I'm looking forward to more scents, thank you (31.10.2016 - Jana C.)

... I'm in the seventh heaven, sniff and smell ... Mrs. Lenko once again thank you very much for a good tip :-) - Royal Musk from Surrati - it is a bath in the morning rose on a young grass in the Alps .. is amazing, for me even better than Musk Al Aroosah. Just for the new fragrance to come. I'll want it right now! Otherwise, I have already gotten good and were great, thank you. THANK YOU AND WISH A BEAUTIFUL SUMMER :-) (24.6.2016 - Romana V.)

Surrati - Royal Musk - I'm in the perfume sky and I don't want to go back to everyday! If I wrote about Musk Al Aroosah that it's sex in a bottle, then Royal Musk is an orgasm. He is so sensual, erotic, captivating, that I would love myself ... Very strong opposites, as it stands in the description ... burning passion ... so this is really a very erotically tuned perfume !!! At the same time it is so gentle and clean. I have no words and I have Sharina on my other wrist. I am afraid to smell ... (21/06/2016 - Lenka S.)

Have you tried one of our perfumes?
Let us know
how you like it!
You might also like