Rasasi Romance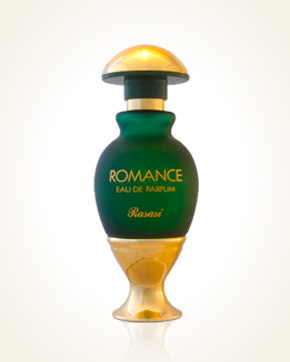 Rasasi Romance
Eau de Parfum 45 ml
In Stock
Eau de Parfum Sample 1 ml
In Stock
Description
The perfume, which will surprise you with its softness and intensity, has beautifully sounding tones of hyacinths of all colors, velvety sensual ylang-ylang comes in and catches up with jasmine and roses.
Smoothness of the aroma is achieved by sandalwood with a warm musk chord, which is aided by a soft ambergris. The whole concert is set in stunning fruit tones with the help of apricots and peaches.
Enter this oriental yet gentle-sounding concert that will make you feel the finest thread of your dreaming. Peach flavor directly encourages more and more fragrance. How seductive and intimate is the final onset of vanilla.

Customer Reviews (2)
Beautiful fragrance of roses, sweet fruit and soft warm ambergris. Sunlit tropical garden. (1/15/2014 - Renée H.)

With the first drop of perfume, we think that we are entering the blooming garden and breathe on us the freshness and intoxication of the various representatives of the flower empire. We close our eyes and let ourselves be stroked with soft, sweet touches all over the body. We are dreaming of becoming a princess, gathering joyful euphoria and throwing flower petals into the sky. The aroma is rich, but at the same time subtle, no blow to the nose that would stun the surroundings unconscious. The inebriation of the flowers recedes, a flash of warm amber that announces that a silver tray is ready with sliced peaches and apricots. The velvety fruit is solemnly combined with a soft musk into a smooth cocktail that gently attacks our senses. I have a less romantic description on the paper: Romance is a wonderfully fragrant afternoon in a flower shop, where a friendly florist gives us the taste of the most gratifying, mysterious, most distinctive ingredients. Tones of rose, jasmine, peach are put together in a harmonious ode to the soft floral essence of womanhood. (03/11/2013 - Andrea Ž.)

Have you tried one of our perfumes?
Let us know
how you like it!
You might also like