Rasasi Romance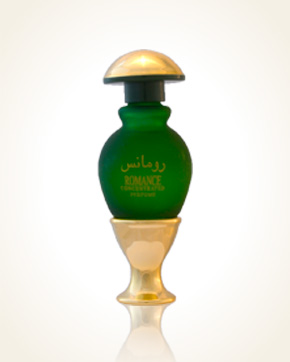 Rasasi Romance
Concentrated Perfume Oil 15 ml
In Stock
Concentrated Perfume Oil Sample 0.5 ml
In Stock
Description
The perfume, which will surprise you with its softness and intensity, has beautifully sounding tones of hyacinths of all colors, velvety sensual ylang-ylang comes in and catches up with jasmine and roses.
Smoothness of the aroma is achieved by sandalwood with a warm musk chord, which is aided by a soft ambergris. The whole concert is set in stunning fruit tones with the help of apricots and peaches.
Enter this oriental yet gentle-sounding concert that will make you feel the finest thread of your dreaming. Peach flavor directly encourages more and more fragrance. How seductive and intimate is the final onset of vanilla.

Customer Reviews (7)
Beautiful fragrance that lasts long. I have been using it for about 15 years and will continue to use it. Just this is love :-)! (09/11/2018 - Edita K.)

Romance CPO perfume rating - For a long time I was looking for a fragrance that was called mine, but even though I tried a lot of them, it was never quite the case. Then I got a sample of Romance and I fell in love with it. It was exactly the scent I was looking for - soft, unobtrusive, pleasant, just a little sweet and not at all sharp and fresh (sporty). And above all novel, completely unknown, original. Simply the only one :-) I already have a fourth flacon and even if I try other fragrances from Anabis and I really like many, in the end I always order a big flacon just Romance. (12/2/2014 - Renata H.)

A fragrance review from our blind client, Miss Petra ... I feel a lot of flowers in this perfume, it is so fresh and I imagine walking in a meadow full of flowers, green grass and colorful flowers around me. (March 6, 2014 - Petra Š.)

Romance (Rasasi) cpo surprises the gentleness with which it is set in flowers and powder. It is like a fragrant room full of rich flowers of roses, daffodils and hyacinths in vases of fresh water. And everything is dusted with vanilla powder, dry, with a light touch of warm summer fruit. It is rather a discreet scent, it does not go so much into space, it sounds pure to me, perhaps thanks to musk, and slightly sinful, due to fruit-tinged flowers. (02/03/2014 - Simona J.)

Although Romance is a perfume of Arabic origin, it is a type of western scent that breaks down the myth of heavy Arabic perfumes and is more than suitable for getting to know the oriental fragrance world. Compared to the EdP version, the oil is deeper and more colorful, besides flowers, sandalwood, which creates the foundation from which everything is reflected further, is also very prominent in the introduction. At EdP, I see a princess, a queen welcoming us with a noble walking garden. Her Majesty bends boldly to the deeply fragrant rose flowers and gently takes intoxicating jasmine flowers. Yet he is very tempted to pick up a handful of petals and toss it in the air and let the slow-flowing leaves flow into the velvet scarf that is the work of ylang-ylang. The fullness of the floral veil is complemented by soft peaches that breathe a thick cocktail into a feathery, warm, luxurious, intimate, seductive, very feminine fragrance. If I had to choose between EdP and CPO, I couldn't. Although the same fragrance, each is different in its own way. EdP suits me more in winter, CPO in summer. (03/11/2013 - Andrea Ž.)

I loved Arab perfumes very much and since I discovered their charm, I don't want any more. I like to try something new, but so far I have clearly won the Romance CPO. It is a very subtle smell, but it suits me. (09/10/2013 - Beata K.)

Romance a la un jardín de flores… In the sounds of the fading day, the dark blue of dusk descends over the stilling garden, and the other senses are even more agitated where it loses sight of its rule. The intoxicating aroma of the flower is combined with moist earthiness, and the rawness of life is now part of every breath. Stiff being in time itself. How endless is waiting ?! With each inhalation, the drunkenness of the moment comes again ... Enough time will be later, later, for the pain of penance. Romance is flower opulence. Sweet and slightly oily rose is masterfully incorporated already in the initial tones of fragrance, which are, however, underlined with fruit juice. For now, the pink petals slowly sink into the sweet nectar of apricots and peaches. Sweet cocktail of narcotics. After moments of a spectacular start, Romance settles on the skin, becoming less sweet and more subtle. A few drops of fruit nectar slowly dry on the bark of the tree as well as the rose petals. They fall to the ground to get lost in the dense grassland, while their scent disappears in the earthy aroma of moist soil. Romance remains present as a silent murmur of breeze that sweeps through the leaves of the bushes, bringing a delicate, sweet, spicy fragrance… A floral, pleasantly sweet and subtle woody composition that perfectly matches its name. (16/07/2012 - Dalia)

Have you tried one of our perfumes?
Let us know
how you like it!
You might also like