Afnan Riwayat El Misk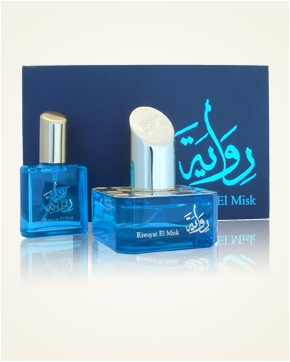 Afnan Riwayat El Misk
Eau de Parfum 70 ml
Out Of Stock
Eau de Parfum Sample 1 ml
In Stock
Description
Riwayat El

Bowl, Amber, Oud and Taif Rose, each of these unique perfumes tell their own story, but combined - they are Riwayat. Riwayat pays tribute to the origin of rare and exceptional ingredients, built on a unique fragrance composition that will stand the test of time.
The story of these fragrances - musk, ambergris, Oud and roses from Taif, began long before our own stories. Since the 15th century, musk has been reserved for royal families. The true essence of ambergris, Marco Polo himself has revealed to the world. The story of oud oil is deeply rooted in Arab culture. And no one will ever know when and how the rose from Taif appeared near Mecca. Riwayat, like great stories, is built on a proven combination of mystery, plot and tension.
El Misk

Just as people describe life itself - as erratic and often turbulent, so do they describe me, for centuries since the writing of the Talmud. My life is one big fascination - I am the real aphrodisiac. I'm El Misk.

It is said that you will find my fragrance both in the pillars of ancient mosques and in the vast bouquets of Marquise de Pompadour.
In a luxury box you will find two bottles with Riwayat El Misk, Eau de Parfum 50 ml and Eau de Parfum 20 ml.

You might also like