Riiffs Ambre Rouge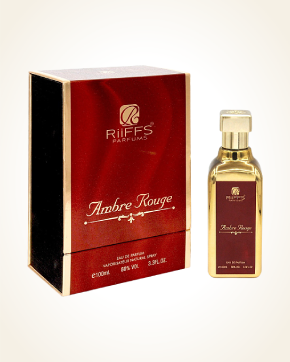 Riiffs Ambre Rouge
Eau de Parfum 100 ml
In Stock
Eau de Parfum Sample 1 ml
In Stock
Description
We start with a gourmet line, which represents deliciously bitter almonds mixed with the intimacy of saffron and its leather footprint in the background.
The flower aria highlights the white-flowering jasmine, hovering over the rare saffron. This solo will also feature other floral tones, bringing together with white flowers touches of orientally warm spices and gourmet roasted nuts.
The warm honey amber enters the gourmet chords in a fascinating way, which in combination with saffron adds perfume even as if it were a salty undertone of sea waves.
In the end, rare, rounded trees in the luxurious company of fluffy and sensual musk appear.

Customer Reviews (1)
RIIFFS AMBRE ROUGE is a real gem, dominated by amber with nuts and precious woods. It is a sweet, warm scent, in which I can smell hot wood, which completes the impression of a winter festive atmosphere, when there are bowls with various nuts and vanilla rolls on the table, the wood crackles pleasantly in the melted fireplace and a light gust of resin comes to you from a distance :-) But this is just my very clumsy attempt to describe this captivating scent that I can't get enough of. It reminds me a lot of Nuit Étoilée by Annick Goutal, who has the same resin-citrus sweet charge, which is not forgotten :-) (12.01.2022 - Hanka P.)

Have you tried one of our perfumes?
Let us know
how you like it!
You might also like