Afnan Reyaam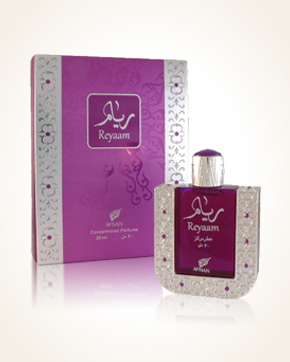 Afnan Reyaam
Concentrated Perfume Oil 20 ml
Out Of Stock
Concentrated Perfume Oil Sample 0.5 ml
Out Of Stock
Notify me when available?
Description
Irritating is the smell of white flowers at the forefront of intoxicating tuberosis, adding a dazzlingly beautiful magnolia, continue with deliciously sounding orange flowers and finish this white-and-white charm with tiny jasmine flowers.
Relieves juicy tangerines and oranges. From the fruit echoes, we return to the flower embrace, this time to her Majesty - a rose that combines with a fluffy vanilla and a light-hearted serenade of rare woods.
Tiaré flowers and slightly sweet mimosa appear directly blissfully. The whole composition is noble with the seductiveness of flowers and the playfulness of citrus tones.

Customer Reviews (6)
I passed Reyaam unnoticed for a long time. Only in the last survey I was interested in his flacon and reviews decided. Another blind purchase and .... absolutely do not regret, because it is a great purchase absolutely breathtaking gem. My love for flowers of tuberose, mimosa and magnolia plays a game of charm, elegance and sweet nonchalance, which is given by a light breath of citrus. Vanilla along with the fragrance of woods make perfume playful and seductive in a very beautiful and unobtrusive way. And the bottle, ách ... (04/01/2017 - Lenka S.)

REYAAM - In a beautiful violet flacon is hidden even more beautiful treasure in the form of perfume.Fine fragrance full of beautiful flowers.It feels magnòlie, jasmine.Fine passes into citrus tones along with roses and a bit of vanilla.Krása (10.3.2016 - Veronika H.)

The enthusiasm of Reyaam persists even after about 3 weeks of wearing and here are the impressions: Reyaam is the joyous messenger of spring. An adorable bottle of perfume conceals an arch, a soft scent with golden rays that softly touch the skin. At the beginning, a brief flurry of tuberosis flickers to catch the attention, and then a lively, white-green game of petals and flowers starts. In fresh, fresh gusts of flowers alternate, at one point leads tuberose, then magnolia, into that jasmine, sometimes just leaves, you could say, it appears from what angle I smell. At this stage, I feel the aroma soft, after about half an hour, sweet citrus is added, increasing in intensity and slowly getting sweet, but it is still fluffy and artfully smoothed with a pinch of vanilla. After another half an hour suddenly begins to hear a woody line, which adds a touch to the composition, so that it looks very elegant and feminine overall. I am a supporter of inlaid "sweetshops", Reyaam is more freshly sweet, yet I like it very much. I just missed that smell on the shelf and I'm very happy to have it. (23/04/2015 - Andrea Ž.)

Your perfumes alternate, I have quite a nice collection, now I smell Reyaam from the last order. A really beautiful fragrance, soft, so feminine. It also happens to me that I smell different every day. Well it's just amazing, can not resist and I found that without you just can not do ... (April 18, 2015 - Šárka Č.)

Reyaam is a really beautiful scent. Wrap the veil of elegance and refined luxury. A fragrance that can be worn all day. Very positively perceived by the surroundings. Just an Arabian fairy tale! (04/04/2015 - Lenka M.)

Reyaam needed half an hour to develop, and now he gets me changing and returning. She is soft, soft, incredibly feminine. God, I'm glad to have him. They could not produce it in Afnan as EdP :-) (1.4.2015 - Andrea Ž.)

Have you tried one of our perfumes?
Let us know
how you like it!
Notify me when available?
You might also like