Al Haramain Remember me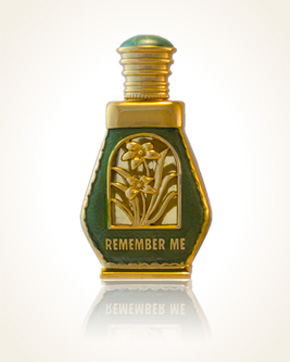 Al Haramain Remember me
Concentrated Perfume Oil 15 ml
Out Of Stock
Concentrated Perfume Oil Sample 0.5 ml
Out Of Stock
Notify me when available?
Description
The lotus flower on the fruit waves of pears, tangerines and oranges will play its game of light seduction. The aroma develops gently with the help of neroli and jasmine flowers. The colorful irises enter the scene to show their unique beauty. A light touch of musk and vanilla scent leads to cedar wood and chamomile at the end. Perfume is as light as a breeze.

Customer Reviews (7)
I greet you very much. :-) AL HARAMAIN REMEMBER ME. This perfume is very special. I smell pears, citrus, chamomile ... and of course musk :-) It's not a light perfume ... It feels really long ... Like all Anabis oil perfumes. :-D ♥ Ladies, if you want to smell really long, don't hesitate ... I really praise Anabis perfumes ... ♥ ♥ Thank you for them. (20/03/2021 - Aja J.)

and I continue with Remember me, it's also been a good year since I had it from you. Gentle - as the name suggests :-) a light breeze plays with the senses, both smell and taste - the open door of the florist - where they just put light flowers in vases, I hold chamomile tea in my hand, it mixes ... the wind to it brings me the smell of some soft wood ... and someone walks past me with fresh pear and orange ... everything is delicious and it's wonderful, thank you (09.10.2020 - Petra H.)

Remember me. It is not pronounced, but it has an incredible stamina. It smells and smells, so I can feel its gentle gusts this morning. I put a little of that scent on my forearm before I went to bed yesterday. Especially the chamomile in it ... it's fascinating and in a day I don't meet many people who smell the pure smell of chamomile. When I have a splint on my soul, I reach for this perfume because it not only smells beautiful, but also heals. I get lost balance with him when I need it. I wish everyone in Anabis a beautiful summer. (06/07/2015 - Ivana V.)

"Remember me". It's just great with a really descriptive name. It does not break into the nose, it is unobtrusive, yet unusual. Sweet, but not sweet, fresh, and that's what I wanted. (8/21/2014 - Monika P.)

Thank you very much for sending the scent Remember Me .... It's amazing ... and its name is quite accurate. Again perfect perfection :-) (26.7.2014 - Ingrid V.)

Remember me - a blooming garden that you just sprinkled with cool water. Every leaf, every flower rises to you with gratitude and offers you a heady scent, freshness and variety of colors. Freshness will go with you all day and all night. (05/07/2014 - Lenka M.)

Remember Me, is tender tender with orange and tangerine, a small vase with a flower of iris and chamomile all around. The smells are wonderful and each has its own secret and now I have it. (April 7, 2013 - Pavla K.)

Have you tried one of our perfumes?
Let us know
how you like it!
Notify me when available?
You might also like