Rasasi Rose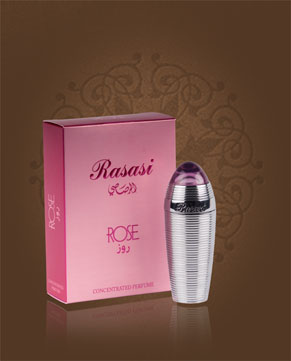 Rasasi Rose
Concentrated Perfume Oil 5 ml
Out Of Stock
Concentrated Perfume Oil Sample 0.5 ml
Out Of Stock
Notify me when available?
Description
The new collection of four very beautiful Rasasi fragrances is called the Musk Series. Each CPO is in a silver container containing 5 ml. They can be combined with each other to create your own unique scent, or you can use each perfume separately.
The fragrant charm of the noble queen of flowers - the rose of Taif in conjunction with geranium and ylang shows the extraordinary beauty and power that this flower can do. The green tones of fleshy fruit are slightly peeked with a touch of honey. A pinch of orientally spicy spices will direct the fragrance back into the arms of roses, which in this wave together with musk will turn into a powder seductive.

Customer Reviews (4)
Good evening, Mrs. Lenko I still discover new fragrances in your shop, now I am intrigued by roses are amazing. Arabian Prestige Rose is a sun-drenched pink plantation, the scent extends around me and I feel like an Arab princess. Now I have ordered two more roses and I am looking forward to them, so Rasasi Rose is a pink bomb. I feel like I've turned myself into a rose. It smells so intoxicating and perfect until I feel like in a flower bed of red roses and I absorb the smell even through the skin. Have a nice evening (25.2.2016 - Jana Š.)

Roses, roses and roses again ... pure, intoxicating and so seductive. Ladies, you have to try this! Although the perfume in addition to the rose extract of Taif also contains geranium and ylang, the rose - the queen of all flowers will not beat anything, on the contrary, the other components will enhance its uniqueness. This wonderful fragrance captivated me mainly with its rich yet irritating power. It is suitable for daily wear, but also for society. This perfume certainly will not offend anyone. (20/08/2014 - Blogerky.cz)

Have you ever experienced blooming rosarium? I really liked going to the rosary on Petřín, in the morning when the flowers were still partially winded, dewy, the air was intensely saturated with the smell of roses and green leaves, smelling the flower came velvety stroke of sweetish sweetness, the honey stammered and slightly she made herself aware of the warm woodyness of tender bushes. Roses where you look. All of this reminded me of Rasasi Rose. Deep, strong oil rose going into space with excellent durability. (4/23/2014 - Andrea Ž.)

Rose (Rasasi) cpo is proof that a rose can always be treated differently. Here clearly dominates dry red rose slightly sweetened with honey, but above all complemented by woody dry component. Excellent durability gives ample space to monitor the development from dry woody to the final butter-pink phase. (02/03/2014 - Simona J.)

Have you tried one of our perfumes?
Let us know
how you like it!
Notify me when available?
You might also like