Rasasi Blue Lady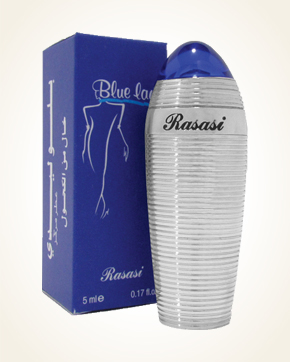 Rasasi Blue Lady
Concentrated Perfume Oil 5 ml
Out Of Stock
Concentrated Perfume Oil Sample 0.5 ml
In Stock
Description
The floral flood attracts to its embraces the delicate beauty of violets, creamy ylang - ylang, intoxicating tuberosis and gentle orange flowers.
The juicy sweet peach and the delicious plum are pleasantly blended with the flowers, with additional floral chords dominated by straw-sweet narcissus and white-blooming jasmine.
Sweetish tones spread in sandalwood, with a harmonious interplay of gourmet whipped vanilla mousse with a musky tender musk.
The end is deepened in tones of honey-ambergris with a successfully second, cool vetiver.

Customer Reviews (1)
Blue Lady ... stuck in my net looking for a scent with a strong violet. When I smelled the sample vial, I really felt the violets ... and wished it would remain that way. Then I put a drop on the skin and gentlemen ... it was a whopper :-) A huge bouquet composed of daffodil, hyacinth, jasmine, orange flower, lily, lilac, tuberose ... well and finally the violets fit there. Sympathetic is that the flood of flowers does not create the idea of a steamy greenhouse or unventilated florist (which floral fragrance can sometimes unfortunately), but do you feel flowers with a little green (perhaps from the stems and leaves)? I was absolutely kidnapped (my surroundings were less, it took at least an hour for the scent to "settle" and soften). When I woke up from the flower puddle, I began to sneak into the thought that it was already there ... something that I had once felt. At no cost could I remember what it was, so I finally went to help one foreign website. Of course, Amarige. Blue Lady smells like the original (and no longer produced) version of Givenchy Amarige. Which may not be the intention of the manufacturer, but for me it is a big plus. Flowers are even more special with the smell of plum and everything is gently wrapped in ambergris ... Blue Lady is beautiful in one word. (7/17/2019 - Petra P.)

Have you tried one of our perfumes?
Let us know
how you like it!
You might also like