Naseem Rameesah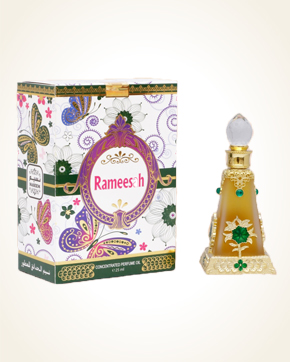 Naseem Rameesah
Concentrated Perfume Oil 25 ml
In Stock
Concentrated Perfume Oil Sample 0.5 ml
In Stock
Description
The sensual show of flowers - majestic rose, white-blooming jasmine and opulent magnolia, opens its game of charming seduction with tones of gourmet dark chocolate.
Spicy plums inviting the delicious cherries of the cherry and juicy tangerines are slightly swayed in the honey bath. Patchouli is added with its typically spicy herbal trace, chased sweetly with woody tones of cedar. Everything is accompanied by fresh juice of ripe apples, which are in an irritating gourmet duo with almonds dusted with a pinch of coconut shavings.

Customer Reviews (1)
Otherwise, Nameem's Rameesah is my next scheduled beauty I want in the fall. It is very similar to Naseem's Daliya, with which I am already finishing, but Rameesah is a bit sweeter and intoxicating because of the coconut I feel in it. She is beautiful. For your information, I will pass every perfume to the last drop (as a fabric softener, that's wonderful!). Once again thank you and wish you a wonderful summer days and a pleasant holiday. Also Mrs. Janke. (06/07/2018 - Ivana J.)

Have you tried one of our perfumes?
Let us know
how you like it!
You might also like