Surrati Qandeel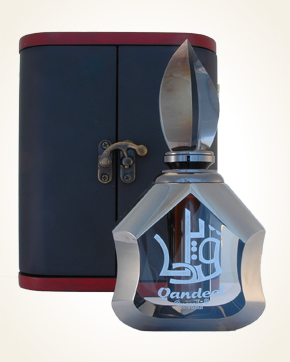 Surrati Qandeel
Concentrated Perfume Oil 12 ml
Out Of Stock
Concentrated Perfume Oil Sample 0.5 ml
Out Of Stock
Notify me when available?
Description
A wooden cabinet hiding a heavy crystal flask with metallic reflections, beckons to enter the exclusive Surrati range.
Beautifully sensual combination of sweet honey with mystically sounding oud oil, is a very delightful beginning of luxury perfume.
Here, Oud shows his indomitable footprint, rocking from the tones of dry wood, to the sweetness of the skin to the spicy-sounding oriental spice, dominated by the irritating clove and cardamom cinnamon.
The rose dissolves in the warm ambergris, whose connection with the white musk is powdery tender.
The seductive concert of the whole composition is enhanced by gourmet vanilla with guajac wood and its earthy pepper scent.
Qandeel is a very exclusive perfume that will give you a charmingly seductive, long-lasting fragrance, while also getting a perfume jewel on your shelf.

Customer Reviews (2)
Hello. Thank you very much for the fragrant gift. The bottle of Qandeel is something fantastic for me. Beautiful bait - and I'm trapped. Strength, intensity, stamina ... unreal. (11/24/2017 - František V.)

I bought a sample of Qandeel perfume and I have to admit it is a really beautiful scent. Qandeel carries me to beautiful palaces scented with incense, from the gardens with a gentle breeze carries the intoxicating scent of roses and exotic vanilla. Thank you for the wonderful smell. (5/5/17 - Iveta S.)

Have you tried one of our perfumes?
Let us know
how you like it!
Notify me when available?
You might also like