Naseem Qadr Lamsa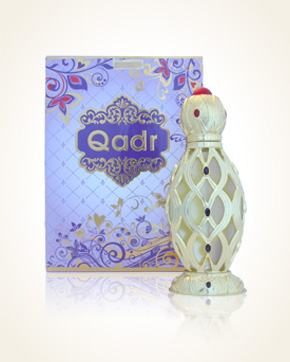 Naseem Qadr Lamsa
Concentrated Perfume Oil 20 ml
Out Of Stock
Concentrated Perfume Oil Sample 0.5 ml
In Stock
Description
Wonderful floral with apricot peach cloud - this is Qadr, which is still the same scent of Naseem Lamsa, which has been renamed and is also in the new flacon.
The combination of the white flowers of jasmine and gentle violet suggests a charming seductive subtlety. The delicate white rose in a unique combination with light peach and apricot tones is a tender chord developing its notes into a rare lemon grass orchid. There will also be a clear scent of peony with a light touch of green apple.
The end of the composition is in a fruity, mandarin orange hug embracing the soft vanilla and the tender sensuality of the musk.

Customer Reviews (8)
Greetings to Mr. Jana and Mr. Lenka :-) and thank you very much for the package that I just received. I am ecstatic .... Naseem Qadr Lamsa .... I'm still sucking the heady, unearthly gentle smell ............ and the bottle is beautiful .... finally I have it all .... Moooc thank you for the presents and have a nice day to everyone in Anabis :-) (26/03/2019 - Romana V.)

Naseem Qadr Lamsa - beautiful magically masterful scent! Citrus, peaches ... easy and hint of scent of wet clay - a similar common element with Afnan Musk Abiyad, with the difference that Abiyad is musk with wet rosettes and Qadr Lamsa is musk with peaches and apricots and with a light, unobtrusive undertone of jasmine and vanilla, to give the fruity freshness a sleek gentle garb..but most of all it is bathed in a beautifully pure hebounký musk ... what to add .. simply musk fragrances are timelessly beautiful appealing charming .. Just a little note that I find that Naseem Qadr Lamsa doesn't have that long endurance, but maybe it's just my subjective feeling. I can have something with the sense of smell :-D So for me it would be best to pint a pack :-D because this fragrance I would have poured every hour. On the contrary, you who like tender floral and fruit musk musks, so be sure to order a sample of this beauty !!! It is really worth it !!! (3/25/2019 - Romana V.)

Beautiful intense fragrance, very fruity with vanilla at the beginning, later I smell rose, jasmine and finally a beautiful powdered musk. Stamina all day (or all night) :-). (7/16/2016 - Mirka P.)

Qadr - juicy peach juice that invites you to bite, freshly picked violets, sour apple dusted with a pinch of vanilla, sliced lemon. After a while, narcotic jasmine unfolds, accompanied by a subtle trace of pure fresh musk. Together they give the fragrance a slightly seductive undertone. Beautiful perfume, which I would enjoy on hot summer days. For the winter I can not imagine it, but on each smell develops differently ... (13/07/2016 - Lenka S.)

Naseem Lamsa - tender, delicate, beautiful, charming floral fragrance with a combination of fruits. On the skin long stamina, beautifully decorated bottle, my great thanks, I have been wearing it ... (27.4.2015 - Miloslava P.)

Naseem Lamsa. I have a formula. Fruits, peaches, apricots, distinctive, yet very clean. Great stamina on the skin. I ranked among the fragrances I get for spring or summer. (16/09/2014 - Martina M.)

... enchanted me a lot with Naseem Lamsa perfume, so it is absolutely unbeatable a lot of fresh fruit such a jewel. (11/09/2014 - Veronika H.)

Naseem Lamsa - I got a formula in my hands. It is dominated by the wonderful aroma of apricot - similar to the Nina Ricci Love in Paris European perfume - apricot also dominates, but it is not nearly as beautiful as this perfume. The aroma is very harmonious. It is rather sweet but still fresh with beautiful stamina. She feels like my mother's sister, Zahrat Al Khalej, but she is sweeter, softer and more durable. Apricot, peach, rose, peony - all beautiful ingredients ... Very nice and pleasing aroma. (05/09/2014 - Jiřina K.)

Have you tried one of our perfumes?
Let us know
how you like it!
You might also like