Afnan Precious Pink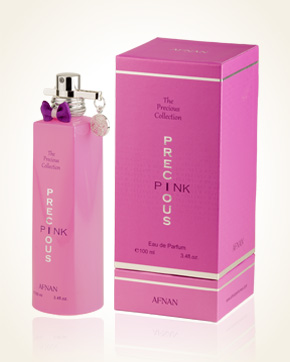 Afnan Precious Pink
Eau de Parfum 100 ml
Out Of Stock
Eau de Parfum Sample 1 ml
Out Of Stock
Notify me when available?
Description
Precious is a brand new line of five Afnan fragrances.
Pink is a cocktail mixed with exotic fruits complemented by the softness of the flowers, the sensuality of the musk and the soft wave of trees.
The peach directly delights itself into an exotic embrace of pineapple, yellow melon, mango and papaya. The gourmet chords of fruit are lightly added with a plume of flowers, accompanied by a pleasantly carried touch of fine oils of precious woods. The conclusion is in the sensual keys of peach blended with the irritating purity of musk.

Customer Reviews (5)
Preciouse Pink - splendor, splendor, splendor ..... who likes fruity sweet smells will rejoice. Sweet so that you want to eat it, the aroma of exotic fruits and peaches ripe so that its juice flows through your fingers, musk softens this sweetness, but only slightly, so that the stillness of fruit dominates. I've never seen anything so sweet and amazing, only an Arabian can do that. Her scent seems to dress you up, I feel it for hours, until my head is spinning, and then it fades for hours. Glamorama Red is similarly sweet and breathtaking - there is also a taste of caramel, but the same saturation of fruit, my second favorite :-), another similar splendor is hidden in a bottle of Arabian Gems Red, followed by slightly less sweet but still delightful -Transparent, Pink Cloud, Hadeel, Dhelaal Pink and Sirr Al Hub Pink - all scented water. In the oil version of fruity richness you will find in my absolute favorite Reemas Silver, Lulu Al Khalej, smells wonderfully Taj Al Aroosah - unfortunately currently unavailable, which will immediately be in the foreground of my favorites :). In a more honey sweeter version of the sweet fruit, Lamsa Gold finds itself, in conjunction with a hint of citrus, and Naseem Lamsa and Musk Al Ahlam. Since I've tested dozens of samples to find out what I'm riding on, this is my evaluation for those who like the sweetness of fruit and groping. None of these perfumes will certainly make a step beside and I am looking forward to all call me "Mrs." :-) (2.3.2015 - Iveta W.)

Fruit salad aromatized with flowers that support the natural sweetness of the fruit. They are otherwise very fresh, in many places remind me of freshly picked gooseberries. Compared to European youths, these Arabs do not suffer from the cold emptiness behind fruit, because they fill it with a very cleverly disguised cream and warm wood. (1/30/2015 - Dzona)

Fresh fruity floral aroma. Juicy strawberries with magnificent roses, apricot flowers (I can't help feeling them there) and jasmine. Lightened by musk, wood in the background. One of those Arabian scents that I appreciate for the summer heat. (30.1.2015 - Katka)

From the throat of the sympathetic flacon the pearl tones of tropical fruit, above us brightens and good mood arrives. Dense nectar from sweet-sour pineapple mixed with sweet mango mixes with velvety peach to dissolve slowly into a soft, transparent musk, which whips the juicy molecules into a smooth, delicious mixture. The seemingly simple combination of fruit and musk is treated with the utmost precision, and only Arab perfumers can do magic with fruit, and the result is a beautiful, rich, feminine seductive fragrance with endless endurance. Together with Transparent Pink is for me the best Edp fruit plant I have ever known. (14/11/2014 - Andrea Ž.)

Precious Pink - beautifully sweet fruit like a vitacit (strawberry, raspberry, as I liked to lick ;-)) mixed with the purity of white musk and a tiny drop of vanilla. Beautiful delicate fragrance ... (12/11/2014 - Romana V.)

Have you tried one of our perfumes?
Let us know
how you like it!
Notify me when available?
You might also like