Afnan Precious Black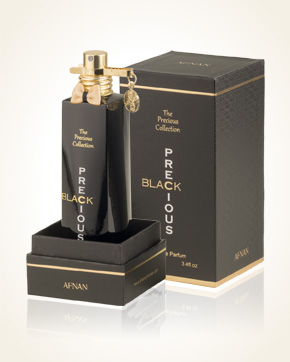 Afnan Precious Black
Eau de Parfum 100 ml
Out Of Stock
Eau de Parfum Sample 1 ml
Out Of Stock
Notify me when available?
Description
Precious is a brand new line of five Afnan fragrances.
Black is a walk lined with citruses with floral echoes or oriental tones of soft ambergris, incense and precious woods.
The scent is opened by the notes of fresh lemon and sweet orange, whose chords dissolve in gourmet orange flowers, which in tender delicacy help May roses with lilies. Velvet caress winds from the arms of honey amber, with which the blackcurrant plays. The whole composition with a line of beautiful woody tones. Their combination with a tenderly seductive rose and balsamic tones will end this concert.

Customer Reviews (4)
EDP Precious black - it is beautiful, slightly woody in the orient, but in a word krááása. It develops slowly and into my skin into an intoxicating, long-lasting scent. It does not go so much into space, but rather clings to the body, on the clothes lasts until the wash. Many thanks to Mrs. Jana for valuable advice. You have such a beautiful and intoxicating smell that I do not know which before and where to take it -) But I must point out that your prices are very good, everyone chooses the so-called. beyond the limits :-) Greetings to Anabis (13.9.2017 - Zdena B.)

Black surprised me, I would say it's Gold. I see a distinctive glittering golden ambergris in it. Of course I also feel oud, it is magnificent, very dense and dark, with enchanted wood and multiple resins. This dark stream is not pungent or sharp, I also noticed its soft velvety. Maybe it is also thanks to the flashy dark rose. (30.1.2015 - Katka)

Blacks have already introduced us a lot of perfume, but none is really black. This one's black has more velvety than darkness. It is reminiscent of black wood, over which a kind of wind musk or menthol drafts. I write "like" because it is probably neither one nor the other, but perhaps a property of some of the resins that are noticeable in wood. In any case, with this gentle movement of air, the black expands and, like a cloak of invisibility, conceals what is beneath it. There must be a lot of statistics in the shade that show up as a hunch. A hunch of roses, a hunch of overripe strawberries, a hint of mint leaves (so…) Black is the most dynamic of the series, but somehow secretly, like a twilight move. (1/30/2015 - Dzona)

Mr. Afnan's Valuables: The Precious Collection 2014. Whether you love Arabs or treat them more lukewarmly, you will surely find something very interesting in this collection, I will give it a neck. It's five perfumes, all of them are EdP and each is completely different. Both the Orient and European-style compositions are represented in style, unusual ones to expect from niche brands. Unusual and beautiful, not to be wrong. Because it is difficult to read about these perfumes, I persuaded Katka to add her own opinion, so that you can look at these valuables at least in 2D optics. The collection is conceivably designed in five colors. (30.1.2015) Blog - Breakfast in perfumery

Have you tried one of our perfumes?
Let us know
how you like it!
Notify me when available?
You might also like