Louis Cardin Pink Cloud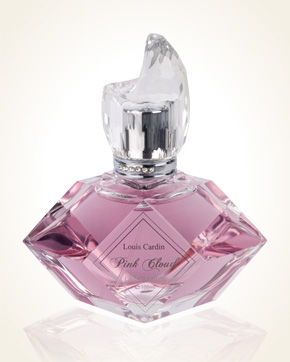 Louis Cardin Pink Cloud
Eau de Parfum 100 ml
In Stock
Eau de Parfum Sample 1 ml
In Stock
Description
The gift box with a beautiful bottle comes with a fruity floral caress from Louis Cardin.
Let yourself be tied with ripe strawberries with their almost intoxicatingly juicy sweet taste laid out in snow-white jasmine flowers. Accept this fresh and innocently sensual embrace that white flowers can do.
A light woody tone with a sweetly spicy trace will conjure up a patchouli bathed in the waves along with a soft musk, ylang - ylang and intoxicating raspberry nectar. The gourmet composition also takes on caramel on its gourmet journey.
The smell is tenderness by itself, but at the same time, it is also an indomitable pink cloud.

Customer Reviews (10)
PINK CLOUD - I don't know why, but it reminds me a lot of LA VIE EST BELLE perfume. Beautiful perfume to a breathtaking, delicate fragrance where you can smell strawberries, raspberries and then delicate jasmine flowers. This perfume is up addicting ....... (02/03/2017 - Veronika H.)

... thank you for a beautiful introduction to the world of oriental perfumes. I've been looking for something new, unprecedented, for a long time. Today I got a package with Pink Cloud and I am very happy. Packing is wonderful. (4/17/2015 - Lenka M.)

Pink Cloud edp is really gentle dreaming on a pink cloud. Although it lacks any traces of the Orient, it does not change the fact that it is a masterfully mixed composition. At the beginning it all unpacks all at once. Sweet raspberries, wild strawberries, some blackberries, overripe peaches and the first summer apples. Nearby there are jasmine shrubs, but their smell is not indole at all, on the contrary, it was added only to taste and it succeeded. Here and there patchouli is processed into a cool sweet form, traditional earthiness does not take place. As the Pink Cloud blows a little bit of wind, it gets a new shape. It is set in its final form, slightly mint-windy with a woody touch, sweetened by strawberries, which complete the experience. Pink Cloud is a very gentle, ethereal fragrance, summer, refreshing, purely western type. (08/07/2014 - Simona J.)

Strawberry alias Pink Cloud already lives on the formulas and is even better than I remembered from our meeting. A fluffy puff of pink cotton candy in which sparkling strawberries treat themselves with a caramel bath to dry them with the soft jasmine flowers. Wonderful scent of European stamping, light as a feather, unsweetened, unglued, after Transparent another great achievement of Louis Cardin. I like it very much. (03/06/2014 - Andrea Ž.)

... I go back to Pink Cloud, after the next days of wearing La Vie Est Belle, I don't have it anymore - those were the first uncombed sensations, if anything reminds me of such a pink Masakï-Masakï. She's really pretty and she likes it. A purely European character. (5/22/2014 - Renée H.)

Pink Cloud is wonderful, so much that my sister "robbed" it yesterday, so I had to buy a new one. Strawberries, but unpeeled, simply fresh from my grandmother's garden, and ripe red will melt directly into the pleasant scent of jasmine. Adding a little spice is probably with patchouli and a pinch of spice and again strawberries and flowers ... so it worked and moooooooc! (5/21/2014 - Eva S.)

Pink Cloud was successful, the best is in the first stage, really beautiful jasmine with a juicy strawberry charge, in the final it will unfold into the form of La Vie Est Belle, so I guess it will be "honeymoon" ;-). If it was mine, she could stay in the spirit of her introduction, I really like it. (5/20/2014 - Renée H.)

... Pink Cloud has a wonderful package and a beautiful treasure inside. Thank you for the other samples in my collection 34 in total - yet. (5/20/2014 - Věra H.)

Gentle flowers drowned in a delicious fruit compote. It's so beautiful and so sensual. So this really succeeded - pink cloud got me ... (May 18, 2014 - Jitka N.)

... This fragrance is simply YELLOW. (5/18/2014 - Věra H.)

Have you tried one of our perfumes?
Let us know
how you like it!
You might also like