Paris Corner Pendora Satin Luxe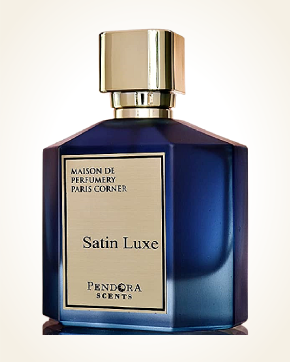 Paris Corner Pendora Satin Luxe
Eau de Parfum 100 ml
In Stock
Eau de Parfum Sample 1 ml
In Stock
Description
Her Majesty, the aristocratically noble elegant queen of flowers - the rose, dissolves her fragrant touches full of tenderness, velvet and delicacy into several sweetly fruity notes, hiding her hint in the Bulgarian rose, intertwining in the fresh tones of the Turkish rose, whose flowers and petals glitter with drops rain that aerates their scent.
The gourmet chord brings whipped vanilla mousse into the floral cloud, which envelops the scent of roses with a delicious hug and lures the fragile beauty of violets together with the powdered, cocoa-milk styrax into its sweet gourmet center.
A slight sway into a darker tone shows a mildly wavy, oud essential oil that does not protrude, does not scream, only adds majesty to the scent of roses and a slight trace of oriental, soft woody tuning, harmonizing with the honey-soft amber in the end.

Customer Reviews (2)
As soon as I see the word "Satin" in the name of the fragrance, I expect a smoothly creamy (probably musky) scent, which will create the effect of "second skin". At least that's how satin affects me. But this creation from the Pendora series goes a little beyond such an idea. Not that the scent lacks musk, so definitely not. His image here is completed by an iris with violet (the blue color of the fragrant elixir is convenient), roses, geranium, vanilla powder and a little wood. Together, this party creates a scent that I would call powder-lipstick. This is probably how a locker with theatrical make-up smells… There is beauty, charm and a bit of nostalgia in it (27.04.2022 - Petra P.)

Paris Corner Pendora Satin Luxe, amazing scent, exactly the same with the scent of MFK Oud Satin, I recommend, it smells divine. (02/24/2022 - Katka M.)

Have you tried one of our perfumes?
Let us know
how you like it!
You might also like