Paris Corner Eternal Coffee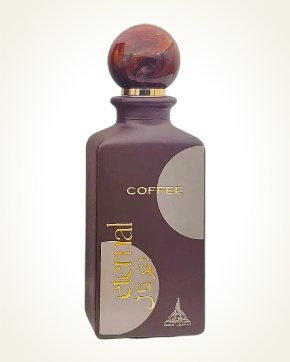 Paris Corner Eternal Coffee
Eau de Parfum 100 ml
In Stock
Eau de Parfum Sample 1 ml
In Stock
Description
Eternal Coffee is a fragrance that evokes intense experiences of gourmet pleasures, when the first rays of the morning sun shine through the cafe, filled with the aroma of freshly roasted coffee, tempting you to have at least one hot cup.
At the very beginning, you will be intoxicated by the delicate shavings of coconut that dance in the fluffy embrace of musk, reminiscent of distant exotic beaches and endless moments of relaxation. This dance is followed by a delicately whipped sugar foam, which boldly intertwines with cocoa milky touches of tonka, evoking a feeling of pleasant well-being.
However, the heart of the fragrance is a true masterpiece - an intense, bitter black coffee that follows its characteristically smoky cloud, hedonistically rising into the added, sensually creamy cream. It is the moment when time stops running and the world around you becomes hazy and unclear, leaving behind only pleasant sensations while sipping it.
At the end, when this dream seems to end, come the sinful touches of caramel that add a slightly bitter sweetness to the scent, provoking your olfactory cells to even more pleasure.
Eternal Coffee is a fragrance for gourmets, for those who are not afraid to give in to the deliciously fragrant temptation hidden in the bottle of this perfume.

You might also like