Paris Corner Emir Ressurection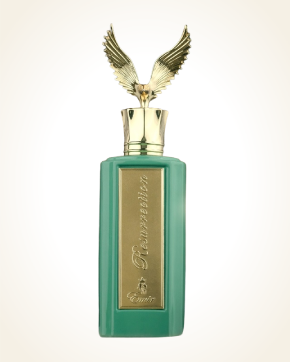 Paris Corner Emir Ressurection
Extrait De Parfum 100 ml
Out Of Stock
Extrait De Parfum Sample 1 ml
In Stock
Notify me when available?
Description
The Ressurection perfume, from the luxurious Emir perfume line, is a combination of rare woods, oud essential oil and fresh citrus echoes that will embrace men like a warm, but at the same time strangely cool, shawl.
At the beginning of the fragrance composition, citruses begin to enchant you, from which a juicy sweet orange breathes on you, with a bitter melting bergamot.
Deeply mysterious, harsh and softly woody, this is oud essential oil combined with amyris, with its pine balsamic aroma, complemented by citrus nuances, continuing in a harmonious connection with spicy spicy coriander.
The fusion of rare woods with animal leather accords makes the scent even more special. Majestic cedar and smooth milky echoes of sandalwood, turn the fragrance into elegant notes, into which the earthiness, chased chypre, hints at herbal soapy patchouli, to which a few final notes of musky tenderness are added.
The perfume Colonia Oud Acqua di Parma was the inspiration for the creation of the fragrance Paris Corner Emir Ressurection.

Notify me when available?
You might also like