Paris Corner Emir Le Charme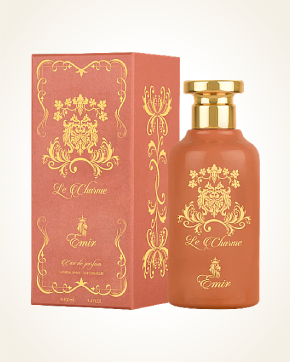 Paris Corner Emir Le Charme
Eau de Parfum 100 ml
In Stock
Eau de Parfum Sample 1 ml
In Stock
Description
A tropical paradise with an intense floral sweetness, interweaving the opulent-sounding tiara flower, with its intoxicating fragrance, and other white flowers with drops of citrus in the background.
We continue to a masterfully mixed cocktail of vanilla nuances, which are dense and full, yet smoothly tender, at the same time gourmet gourmand, as if you and the vanilla are caressed by the sun's rays and a kind of distant echo of fruit accords with a little powderiness.
A richly creamy ylang-ylang line melts into the vanilla score, concealing a final, woody, fruity touch.
The perfume A Chant for the Nymph Gucci was the inspiration for the creation of the fragrance Paris Corner Emir Le Charme.

Customer Reviews (1)
PARIS CORNER EMIR LE CHARME - a real charm that adds charm to its wearer at every step along with a feeling of exclusivity. In the current steamy days, I prefer to reach for a lighter perfume that gives me a feeling of freshness, but already in the evening, for sitting with a glass of wine or with the arrival of autumn, it will be absolutely perfect. Every whiff makes me feel like I'm being hugged by a cashmere blanket. Intoxicating flowers of Tiaré in a sensual fusion with vanilla conjure depth and intoxication, and creamy Ylang-ylang deepens the intoxication even more. Citrus peeks out very shyly only at the very end, making the perfume light and special. Another gem at a very reasonable price. European perfumes can only silently envy. (21.07.2023 - Lenka, Germany)

Have you tried one of our perfumes?
Let us know
how you like it!
You might also like