Paris Corner Autobiography Super Nova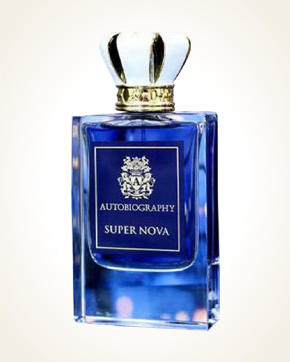 Paris Corner Autobiography Super Nova
Eau de Parfum 50 ml
In Stock
Eau de Parfum Sample 1 ml
In Stock
Description
Paris Corner perfumers present Niche perfumes in the Autobiography collection, made from the best ingredients, of very high quality, hiding their fragrant charm in heavy glass bottles, decorated with a cap in the shape of a royal crown.
Hot coffee with a vanilla-delicious, sweet caramel liqueur seduces you with the first drops of the fragrant essence Autobiography Super Nova.
Gourmet tones of whipped cream sweetened with honey attract the fruity notes of ripe berries, accompanied by soft-sounding tonka and woody echoes of cedar and sandalwood.
The powdery-sweet, cocoa scent of styrax with floral chords blends in with the woody plants, in which white-flowering jasmine and cold lavender with several shades of citrus bergamot resound fully.
The final parade features dreamy undertones of green earthworm patchouli, aromatic coriander and sprigs of mint, intertwining into a velvety soft bed of majestic amber, which gradually ends this whole fragrant concert.

Customer Reviews (3)
Good evening, Ms. Lenko, I just wanted to let you know that the Super Nova will indeed take pride of place in my modest collection of your gems. Although at the beginning it really seems to me more like a men's and very similar version of the A*Men perfume, my friend insists from the first moment on the contrary that it is really a very successful and very similar to the original Angel perfume for women. In his words… a very elegant, attractive and timeless fragrance. Many thanks for your willingness and sending the samples. I really appreciate your care and willingness to always give advice. I wish you and the entire Anabis team a wonderful summer and the coming autumn. With warm regards (03.10.23 Lenka, Germany)

PARIS CORNER AUTOBIOGRAPHY SUPER NOVA ... So it's beautiful ... I still have to sniff my wrist .... Thank you Anabis for these gems .... :-) :-D (03.11.2021 - Kateřina L.)

The name Super Nova was not chosen by chance for this fragrance by chance. The reference to the legendary "Angel", which hid the equally azure blue nectar in the "star" bottle, is more than obvious. However, while Mugler's Angel has become an unbearable kitsch due to senseless bans on ingredients and subsequent reformulations, Super Nova goes back in time, to the time when one of the first "gourmets" in the perfume world stunned many noses. But Super Nova is definitely not a copy of a famous classic; her angel flew to Provence, bringing with him the arms of lavender. The unusual combination of this flower and gourmet tones worked perfectly. It's as if we dug up a gold piece of jewelry and carefully polished it so that it could shine with a new and brighter light again. (09/27/2021 - Petra P.)

Have you tried one of our perfumes?
Let us know
how you like it!
You might also like