Arabian Oasis Oud Al Amouage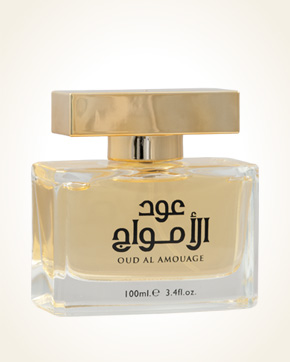 Arabian Oasis Oud Al Amouage
Eau de Parfum 100 ml
In Stock
Eau de Parfum Sample 1 ml
In Stock
Description
Directly opulent perfume full of beautiful oriental fragrances from flowers, spice to oud oil, rare trees and fruit tones, is a great fragrant concert of the Arabian Oasis perfume company.
Rare woods in combination with the full aroma of rose creates the basis for the entry of oud oil of the highest quality. Its excessive hardness is softened and tied with a soft amber and a sensual shroud of musk. The aroma of irritatingly elegant balsamic tones, along with oriental spices in the form of cloves, nutmeg, cinnamon and star anise, shows the irresistible play of charm found in this fragrance.
Let yourself be seduced by chords of plums sunk in thick honey, be enchanted by vanilla associated with eucalyptus, embrace the herbal delicacy and let your surroundings feel this irresistible to mystically sounding perfume game.

Customer Reviews (11)
Oud Al Amouage by Arabian Oasis ..... so this scent fascinated me. This is exactly what European and American perfumes do not have. Nobility and a game where the scent shifts and changes over time until you become dependent on the scent ... But what about perfume, it's beautiful. And I enjoy the Arabic scents. It's only a matter of time before I exchange the formula for luxury in a beautiful bottle. (30.05.2022 - Bronislava Č.)

Dear ladies, Arabian OASIS OUD AL AMOUGE is one of the oud scents that will not offend or bore you. It's luxury, elegance, femininity, fresh and intoxicating. I'm addicted to her. I feel exceptional with her. Thank you for the beautiful scent. (08/03/2021 - Gabriela K.)

ARABIAN OASIS OUD AL AMOUAGE One of my Arabic staples, although I didn't understand the perfume at first. :) ... I already have the third bottle. The scent is extremely interesting and its own. At first I feel slightly animal burnt wood. After a few minutes, the wood is tamed and a sweet plum with a very original eucalyptus begins to show more. Everything is made special by a spice, from which a clove with a nutmeg stands out on my skin, there is only a little star anise. I also feel the rose, very dark and dried. Everything is on a woody-warm base with a mixture of ancient dry wood and other warming components, which over time change the roughness and soften the overall tone of the scent. I don't notice much vanilla. In the end, I also feel a slight acidity, as if on the contrary, unripe plums. The perfume as such has a very melancholy, nostalgic and at the same time confident and very feminine effect on me. It has many ingredients that I like very much and I hope that it will remain on the market for a long time to come. :) (14.10.2020 - Anna Františka Č.)

Oud Al Amouage is a fresh woody perfume, especially appreciated by those who are not on typical heavy Arabic fragrances with oud, strong spices, etc. This fragrance is very difficult to describe because it contains almost everything. So many ingredients ... It's a strange scent that evokes a feeling of freedom, freshness, orientation and sensuality in me. I feel feminine, elegant and mysterious with her. I haven't felt any similar smell yet, so as a bonus - a smaller sense of originality :) (17/09/2019 - Pavla F.)

Thank you for the quick delivery. It has not happened to me that my colleagues in the hall stop me (yesterday 1x and today 2x !!) that somehow nice, strange smell? ... :-) Well - what to add, your scents are great. Thank you (March 8, 2016 - Martin H.)

Hello. I can only agree with all the laudatory opinions. I've been waiting for Oud Al Amouage for a long time. 2 times I asked Mrs. Lenka if she was still there and if she would bring him from the Emirates. I did, I wanted it from the children under the tree and I really got it. Now I am floating on the clouds of this incredibly beautiful and sensual fragrance. As if I were flying on a Persian carpet full of patterns and colors, what Oud Al Amouage really is. As I examine it, I discover small nuances of surprises and amazes me at the same time. I never want to land again. Have a good time, Mrs. Lenko and thank you very much. (Feb 17, 2016 - Ivana V.)

Arabian Oasis - Oud Al Amouage - charismatic, disarming, captivating ... I can't stop thinking about it, it's like a sunset that will take your breath away again ... the coming new day. It is exciting and burning, I have no words ... I haven't tried anything like it yet. He also tried a friend and it sounded much darker, deeper, very sensual. Truly delightful fragrance, which must not be missed among my favorite !!! Can't be different, I have to have it ... (Lenka S. - 16.2.2016)

The oud aroma makes this incredibly soft and sweet. The aroma is fresh, like morning dew, into which all the beauties of the surrounding nature have been drunk. Beautifully crafted composition - it contains everything: fruits - woods, spices - flowers, oud - honey, ambergris and ice. And all of these ingredients carry a light breeze of eucalyptus on a soft cloud of musk. (April 6, 2015 - Zita Ř.)

Oud al Amouage is a very unusual fragrance and I would say that it is more for someone who has already had experience with Arabic fragrances, because it is everything but traditional perfume. A very rich oud start with a subtle underlay of a fleshy cactus makes me constantly sniff and follow the evolution towards a no less pronounced but more juicy base combining smoldering carbons with a bitter animal tone accompanied by a caraway trace. (02/03/2014 - Simona J.)

This fragrance is very difficult for me to describe, every time it sounds different to me (maybe honey climbed up to me after the 3rd - 4th testing) and it is mainly emotional. So first impressions… Oud Al Amouage is a charismatic fragrance, when after the first rehearsal you say: quite a nice fragrance, such a truly Arabic, heavier, strong, intoxicating, breathing the riches of the mysterious orient, but nothing for me and you would put it aside. But the strange, captivating fragrance remains imprinted in his head so powerfully that further testing is knocking on the door. And again, it's about a slow intoxicating immersion in an unbelievably rich softness that has the magical power to bind us slowly and surely. Oud Al Amouage is not the first honeymoon, but just try a few times and it will get you. With dosing carefully, rather less than more, it still creates a beautiful puff with great endurance. It smells much more expensive and luxurious than it costs. (2/25/2014 - Andrea Ž.)

I don't have words for Oud Al Amouage. It doesn't resemble anything I've ever felt in my life. It is fresh, light, optimistic as summer dawn. (February 20, 2014 - Milena B.)

Have you tried one of our perfumes?
Let us know
how you like it!
You might also like