Designer Shaik Opulent Shaik No 33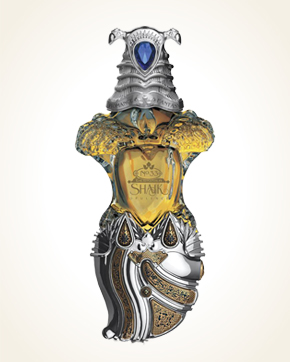 Designer Shaik Opulent Shaik No 33
Perfume Extract 40 ml
Out Of Stock
Perfume Extract 1 ml
Out Of Stock
Notify me when available?
Description
Accept a seductively sinful invitation to a heady luxury walk. Let yourself be captivated by captivating floral tones that will envelop you in sensuality and irresistibility.
Opulent Shaik No 33 is in a beautiful, hand-blown perfume bottle, which in itself is a jewel hidden in a leather case. It is intended for all of you who are looking for a perfect, unusual, variable and seductive scent.
Let yourself be dazed and succumb to the witch angel, who plays with you from lightly juicy to sweet to powder tones. They let Bergamot into its territory with its fresh citrus caress. Add a spicy footprint with coriander in the foreground. The gentle peony declares its delicate appeal and gives way to her highness rose. The rose is jammed into a heliotrope that gives us the impression of intoxicating mimosa and lilac in the velvet bed of vanilla. A refined and sweetly strong embrace conjures up her tonka's warm arms and takes the soft sandalwood to help.
All this harmony ends in the purity and sensuality of the musk, which adds a magical dot that will finally overwhelm you.

Customer Reviews (3)
Opulent Shaik 33 instantly conjures a blissful expression on his face. And also the doubt as to whether words can express what is to be said, for this pure perfume opens the door to another dimension. Flowers headed with peony as if they were drenched in amber, powdered with vanilla powder and covered with lemon sorbet. Strong resin tones lack the traditional bitterness, sweetened by a bouquet of white roses pure and soft as a feather boa. A whipped musk with vanilla traces completes this many-hour experience, and I still do not know whether the fragrance is so virginally innocuously beautiful or its beauty is hidden in sinful decadence. For I will both. (Jul 8 - Simona J.)

How revealing the fine layers of veils is the evolution of this remarkable, interesting, variable scent. As I perceive Chic Shaik as a sweetly floral scent, Opulent Shaik is fresh for me. The first drop is drunk and a pleasant wood-resin layer is spread over the skin, which carries a gentle sweet juicy powder to be blown by a fresh green breeze while the citrus bells clink. At the same time, their gentle ringing announces the onset of a flower chord, headed by an intoxicating intense peony, to which is added a sun-lit rose. A gentle duet full of flowers trembled with soft vanilla anchored in sandalwood, which gives a pale sparkle. The whole composition slowly turns into a wedge of clear musk, which smooths everything into a sensual innocence and crystallizes into a sinfully seductive scent. (Feb 18, 2014 - Andrea W.)

It is really beautiful, it smells of luxury and smells wonderful !!! Also the packaging, including the decorative case is a feast for the eyes. (January 2014 - Dana N.)

Have you tried one of our perfumes?
Let us know
how you like it!
Notify me when available?
You might also like