Opulent Shaik Gold Edition For Women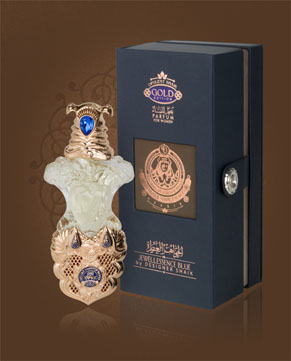 Opulent Shaik Gold Edition For Women
Sample Parfum
Out Of Stock
Notify me when available?
Description
Perfume that literally binds you with its unique and excellent fragrance. The perfume has Arabic tones that show the splendor of the mysterious world of princesses. The perfume that scents you for the whole day is itself a luxury jewel that is hidden in a hand-blown bottle and stored in a leather case.
The introduction leads us with fresh tones of pink pepper into an intoxicated flower valley full of beautifully blooming roses. The stunning orchid flower with a luxuriously intoxicating aroma reminiscent of vanilla with chocolate, spreads into another of the finest fragrant essential oils - a cold iris gently warmed by vanilla. The sensual line is recorded thanks to the animal skin, which is combined with the intense, warm scent of tonka. The soft velvety ambergris is elevated to a woody sweet sandalwood and a hint of oud oil to the sinful heights of luxury. At the end it shows a powdered arms with a gentle shroud of musk echoes.
Opulent Shaik is an irrepressible passion, an alluringly captivating all-day fragrance journey, a silky seductive cloud that remains as an unmistakable imprint wherever you go.

Customer Reviews (2)
... so I have the package at home and immediately unpacked it with my neighbor. We both marveled until we lost our talk ... Opulent Shaik Gold Editon For Women The fragrance is so breathtaking that my thoughts always go with this fragrance. I reached into the secret collections ... it's gone, but I'm happy. (4/30/2015 - Eva S.)

Opulent Shaik Gold Edition - we expect a luxury fragrance from a luxury bottle and in this case we will not be disappointed. Already with the first molecule, it is clear that in the flacon is hidden jewel made of the finest natural ingredients, grinded by the hot passion of the rich Orient. The scent of this gem is like dressing in liquid gold, a thick, dense liquid in which all the ingredients that coat the skin like fine gold are broken into dust. The fresh, distinctive pepper line, lightly supported by citrus-wood tones, acts as a living water and awakens a velvety, flowing heart of heart, from which every stroke gushes a heady intoxicating essence of spectacular luxury in an incredibly feminine, sensual, slightly sweet, floral long-lasting phase. Delicate powdered rose petals and orchids dissolve slowly in a whipped vanilla tonal corpus carried on a sandalwood tray. Dark perfume, sparkles, sensual attack on olfactory cells, it is very difficult to resist its lure. Amber is added as a delicate lace gracefully lining tray, the scent warms up and the rays of leather tones add a touch of evocative seduction. Opulent Shaik Golden Edition is an elegant, hypnotically captivating fragrance. And also a very dangerous smell. The longer I rehearse it, the more I desire to own this piece of jewelry. (21/10/2014 - Andrea Ž.)

Have you tried one of our perfumes?
Let us know
how you like it!
Notify me when available?
You might also like