Afnan Omniyah Pour Femme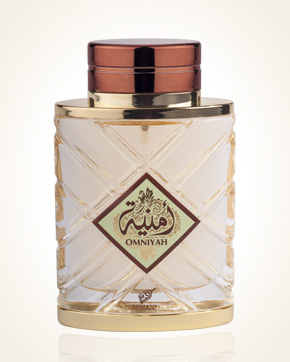 Afnan Omniyah Pour Femme
Eau de Parfum 100 ml
Out Of Stock
Eau de Parfum Sample 1 ml
Out Of Stock
Notify me when available?
Description
A floral flood that blends into powdery strokes with echoes of fruit and light touches of musk - that's Omniyah Pour Femme.
At the beginning, we are charmed by a narcotic scented gardenia with its intense and sweetly carried key. Rare woody plants with fruit, strawberry, cherry and fully ripe yellow melon are added.
The playfulness of sweet vanilla tones in a composition with sandalwood and mimosa will envelop us with its genuinely seductive embrace that is seductively captivating.
The conclusion in this pleasantly intense aroma belongs again to the flowers, now spread in musky sensuality.

Customer Reviews (3)
Omniyah pour femme. So she absolutely got me in the first sight. Gardenia combined with sandalwood, and in the end with protruding musk, it is luxury. Elegance, beauty, nothing like this. (16/09/2014 - Martina M.)

Drop this beauty, close our eyes and suddenly we are in the tropical pavilion of the botanical garden. At first we will be dazed by a gust of slightly spicy juicy sweet gum (gardenia) accompanied by a light shower of sparkling lemons. Then comes an intense jungle feeling with the scent of precious woods, wading through dense greenery among the expressive mimosa flowers for a sweet lure, in the heart of which there are rich red fruits (raspberry, strawberry, cherry) covered with vanilla. The play of intoxicating tones, which puts us blissfully into the velvety, smooth, powdered arms is finally lightened by a clear musk. Sparkling, feminine seductive, elegant floral-fruit composition with a light cloud and great stamina. (April 27, 2014 - Andrea Ž.)

Sparkling floral scent with fruits. Gardenia and iris with raspberries, musk and a patch of patchouli. Very feminine, elegant, luxurious. European Arabian. (4/25/2014 - Renée H.)

Have you tried one of our perfumes?
Let us know
how you like it!
Notify me when available?
You might also like