Al Haramain Noora Al Haramain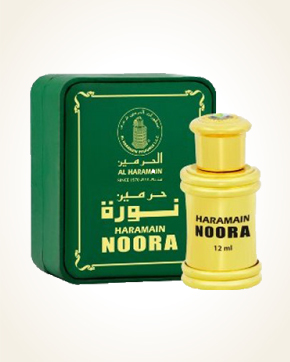 Al Haramain Noora Al Haramain
Concentrated Perfume Oil 12 ml
In Stock
Concentrated Perfume Oil Sample 0.5 ml
In Stock
Description
A mildly sweet, fragrant composition will bring you to the sense of lightness of oriental dreaming, the initial floral citrus lure.
Juicy orange combines its tones with creamy ylang - ylang, roses and jasmine. A bitter bergamot with a few touches of green freshness of grasses subscribes.
The woods show a smooth footprint, with sandalwood in the foreground, which combines with a sweet scent with another fruity melange, a delicious vanilla and a fading embrace, a sensual musk.
Noora is a gourmet sweet and enticing intoxicating scent.

Customer Reviews (2)
Hello, thank you for the beautiful scent of Noor. The package took my breath away ... a golden glass in a metal case hidden in satin in a green box. It's my first oil perfume, and I'm excited. Sweet vanilla, sweet fruit, several flowers and aromas hold for many hours. It is beautifully sweet and moooc thank you. I chose from the samples what I ordered from you and it was really hard, the smell very beautiful smells and there are more what I would like. I ordered Noora the first big perfume and I like it very much. Have a nice day (4.6.2018 - Katka P.)

Arabic freshness in a fruit coat. Beautiful sparkling nectar. Lotuses with roses, dewy with cold drops of water ... I don't know where they came from, but I smell the wonderful scent of ripe wild strawberries ... a silky dusty ambergris with precious woods and sweetness of true vanilla, all very subtly underlined with a hint of oud essential oil a bouquet of individual ingredients. Perfectly mixed cocktail ... (21/12/2012 - Renée H.)

Have you tried one of our perfumes?
Let us know
how you like it!
You might also like