Afnan Noor Al Shams Gold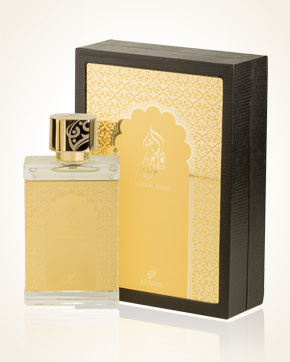 Afnan Noor Al Shams Gold
Eau de Parfum 60 ml
Out Of Stock
Eau de Parfum Sample 1 ml
Out Of Stock
Notify me when available?
Description
Noor Al Shams is a collection of two brand new Niche perfumes from Afnan, of which Gold is for women and Silver for men. Luxurious fragrance, luxury gilded or silvered flacon will enchant you with the beauty of the Orient.
Gold opens its fragrant notes in flower gardens dominated by majestic roses. Comes velvety vanilla with lilac and sweetly fresh mimosa. A delicate and sensually irritating violet spreads into a headyly stinging musk.
The luxury composition develops also with the help of rare woods with a trace of oud oil, which elevates individual chords into a charming elegance.
Let yourself be bound by a strand of intoxicating fragrance, be enchanted by an irritating refinement!

Customer Reviews (2)
Noor Al Shams: Mr. Afnan's Gold and Silver. My tip: They can be worn together because they are fine. I had Gold on one hand and Silver on the other, and I liked it. Silver is a calm strong mob, which coexisted quite well with the restless and changeable Gold. They do not interfere, but mutually reinforce each other. (02/04/2015 - Dzona)

Noor Al Shams Gold: Proud beauty. Gold is the opposite in many ways. Compared to the almost minimalist beauty of Silver, blended so that you only perceive a few ingredients, Gold is a showcase of ingredients. Completed parade of great allegorical cars. I was surprised at first, then excited about how fast the files were rotating. The beginning is as fresh as the morning with lavender and citrus. Katka and I both reacted the same way: Men's fragrance? But no, the lavender salute lasts only a few minutes and then the procession starts. Creamy wood blends into the herbal citrus, a comfortable base on which all the variable floral arrangements arrive. At the same time, the extinct bathroom freshness of the introduction will emerge in a new form, more saturated and this time garden, simply as a green background. It smells very pleasant, because it reminds Balmain de Balmain with its freshness of galbana and currant buds. And this idea with garden greens was excellent because they got the flowers and leaves and sap, they just kept them alive. First it has a long rose, then lilac, moist and well almond, followed by small flowers, sugar mimosa and green violet. In the pauses between their outputs, creamy wood grows stronger. With each of its phases it is more distinctive, exquisitely spicy, sweet and provocative. At some point, it evokes the memory of Ghost's Deep Night. It is built on a special aroma, as if it were a peach with clove tincture. Exactly this tone is incorporated, albeit less sharp, into the wood in Gold. (27.2.2015 - Dzona)

Have you tried one of our perfumes?
Let us know
how you like it!
Notify me when available?
You might also like