Al Rehab Nebras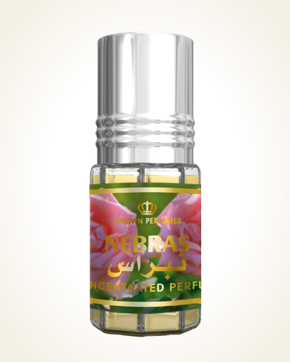 Al Rehab Nebras
Concentrated Perfume Oil 3 ml
In Stock
Concentrated Perfume Oil Sample 0.5 ml
In Stock
Description
The juicy touch of citrus freshness is replaced very quickly by its highness - roses, the royal variety of Taif. The blending of jasmine and just gentle caress of oud oil gives space to pick up the fragrance into a luxurious mood, which is intensified by the warmth of the woods with a deep-sounding echo of incense.
The end turns back to the flower beds with a fluffy ripple of musk and vanilla.
A pocket pack of oriental perfume, the big advantage of which is the small size (3 ml of perfume) so that it fits even the smallest handbag or pocket. In addition, perfume is very easy to apply using a ball in the bottle cap. So you can always have your favorite fragrance with you.

Customer Reviews (4)
Greetings to you dear ladies in Anabis and a big thank you for the incoming fragrance package not only with what I ordered, but also other fragrance samples. Al Rehab Nebras, perfume oil, a lot of intense fragrance hidden in a small bottle. It is charming, elegant, pleasant and oriental. Much of this fragrance smells a rose, a bit of a citrus and finally a floral scent with a little vanilla. It's a little fragrant miracle that I can always have at hand. Many thanks to Mrs. Lenka and I thank all the ladies in Anabis for a perfect job and wish you a nice and relaxing summer. Satisfied customer (1.8.2019 - Gabriela K.)

I was very curious about Nebras; on foreign websites is very praised, often described as the most interesting or pleasant fragrance from Al Rehab, which I did not want to believe in such a baby. Immediately after application to the skin I was overwhelmed by the intoxicating scent of flowers. According to the cover and description in Nebras, the Taif rose, but when I close my eyes, I also see lilac, violets and hyacinth in front of me ... Those who loved and missed the Champs Elysees Too Much would be at this stage exult. Flowers in Paris, however, do not stay long, because they quite quickly sprinkle powder with a lot of musk. And not some decent dust, but a straight avalanche. But the flowers are more courageous and don't give up: they brave themselves out of the powder drifts to enjoy their beautiful fragrance ... before the next avalanche comes ... and so on. Over time, the powder gusts will be lessened, the smell will be polished (would it be vanilla?) And after a few hours there is another surprise: the delicate aroma of the skin, which is not included, but I just feel it there. It is not a new leather sofa, rather a suede coat that has been slightly wet in rainy weather. My pleasure does not disturb this perfume, on the contrary. (3/13/2019 - Petra P.)

Nebras is succulent, powdery. (Sep 16, 2017 - Zdena B.)

Hello, I happened to be attracted by advertising and try out samples for the first time. They are all beautiful in a way, but what I have to pick up at the first dazed is a gift from you Nebras. This is a powdery powder powder, from which flowers look and powder again. I didn't know you existed and had so many scents that I had never known before. Nebras charmed me so much, it is a strong smell that the friend of mine who walked the dogs could feel the evening. The fact that there are written citrus, so I do not feel, but I guess they are, because it is like some refreshment, but it just a moment, then maybe wood and beautiful vanilla and musk. I am completely crazy about the little ball, so you are coming back again and moooooc thank you there "assigned your system" so great gift, the whole perfume :-) About the formulas I write another time, because now I'm really and very crazy Nebrasem. Thank you again and I look forward to unpacking the package from you next week. Have a nice weekend, (25.8.2017 - Jitka Š.)

Have you tried one of our perfumes?
Let us know
how you like it!
You might also like