Naseem Raqi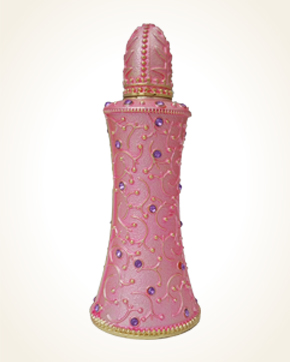 Naseem Raqi
Concentrated Perfume Oil 12 ml
In Stock
Concentrated Perfume Oil Sample 0.5 ml
In Stock
Description
Raqi shows us a typical oriental perfume line whose scent phases are very different and change like a chameleon.
We begin by embracing oud oil and dry grasses, which reveal the first fragrance line in the harder tone of the trees.
Gradually, a flower chord is shown, dominated by rich orange Africans with their spicy herbal footprint. The white chilliness of the lilies contrasts pleasantly with the small flowers of jasmine and the warmly weaving scent of sweet hyacinths. After the next emergence of flowers, the aroma is no longer hardness and is rounded with clouds of aromatic galbana and gently honey chamomile.
In the end, a delicate lily of the valley flickers with roses that are underlined with a trace of dark chocolate and rare woods with citrus bergamot.

Customer Reviews (1)
Raqi, is initially slightly woody, but sparkling, then juicy, fresh and at the end after full aroma is slightly honey-bitter with a bit of juiciness. The smell is very pleasant-so interesting. (October 7, 2017 - Zdena B.)

Have you tried one of our perfumes?
Let us know
how you like it!
You might also like