Naseem Musk Abyad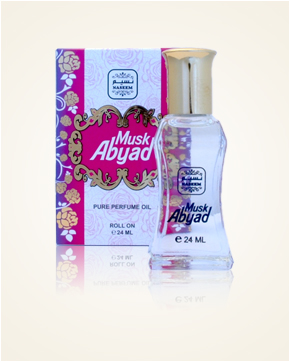 Naseem Musk Abyad
Concentrated Perfume Oil 24 ml
Out Of Stock
Concentrated Perfume Oil Sample 0.5 ml
In Stock
Description
A soft, gentle ... cloud of fragility with a feeling of freshness and seductive tenderness - that's the musk Abyad fragrance.
The sensuality of the musk embrace is complemented by a few gusts of green grass and just somewhere behind the curtain of a slenderly hidden citrus.
For very easy application, the scent has a roll-on ball in the cap.

Customer Reviews (1)
Greetings to Mrs. Lenko and Mrs. Jano :-) and thank you very much for the package with a nice greeting card and gifts ...... :-) Musk Abyad from Naseem - I just meet her and I can't tear my nose away. Je Božskááá !!! I knew in advance that I would be excited, and also that yeah! She is so gentle .. crystal clear ... just breathtaking .... another beautiful nurse from Musk Abiyad and White Musk ... It evokes in me a walk in pure virgin nature ..... at sunrise walking with a gentle breeze, walking with barefoot morning dew on pleasantly cool velvet grass .. and I am just coming to the sparkling waterfalls .... the sun is slowly warming up and the air after the night storm is saturated with infinitely fresh freshness ... ...... (19/09/2017 - Romana V.)

Have you tried one of our perfumes?
Let us know
how you like it!
You might also like