Naseem Maram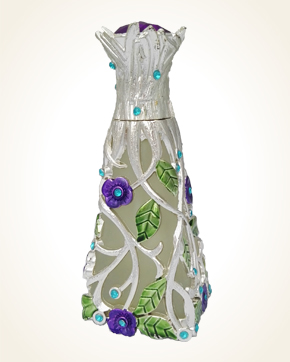 Naseem Maram
Concentrated Perfume Oil 25 ml
Out Of Stock
Concentrated Perfume Oil 0.5 ml Sample
In Stock
Description
Fruit cocktail full of juicy, freshness and delicious chords - that's Maram.
Taste the smell of tutti frutti, let yourself be swallowed with strawberries and melon, to which is added a delightfully tasty pineapple with lime and orange.
From the sparkling introduction, we walk lightly along the flower beds alongside the beds of roses and white-blooming jasmine. With another floral lure there is a cool lily combined with a sweet narcotic, honey-scented freesia.
The end turns to a gourmet line of coconut shavings gently swaying in a vanilla bed, complemented by echoes of cedar wood and a fuss of snuggling musk.

Customer Reviews (4)
Dear ladies from Anabis, on Friday I picked up the long-awaited package and ordered the amazing, summer fragrance of Naseem Maram - perfume oil. Another gem to my collection of oriental fragrances. Thank you Mrs. Carolina for your handwritten greeting. Thank you also for the new formulas. The aroma is incredibly soft, fresh, mainly full of sweet juicy fruit and flowers. After almost morning ceremony, when I put on my body and then it does not give me even during the day ... the beautiful scent will spread, from which you can smell sweet ripe pineapple, citrus, coconut, which blends with lily, rose, vanilla and musk . Gentle fragrance that lasts quite a long time, rather for women who do not need heavier, oriental fragrance. It can be combined with various oils, especially with Afnan Musk Abiyad - perfume and conjure up a distinctive scent. Thank you dear ladies, you are a wonderful shop with beautiful scents, always willing to help. I wish you all the joy of work and happy customers. Your satisfied customer (10/06/2019 - Gabriela K.)

Naseem Maram-fragrance full of juicy fruits, beautiful, interesting smell, stamina unreal. (5/23/2019 - Marie Š.)

And Naseem Maram - finally I have it again ... wonderful, summer, fresh, clean fruit fruit .. I am really happy about it ... And the bottle is beautiful ... Thank you very much beautifully :-) (2.6.2018 - Romana V.)

Naseem Maram - beautiful magical musky fruit plant ... yu normally would bathe in it ... is so tenderly fruity fresh .... really beautiful again ... (7.2.2018 - Romana V.)

Have you tried one of our perfumes?
Let us know
how you like it!
You might also like