Naseem Lamsa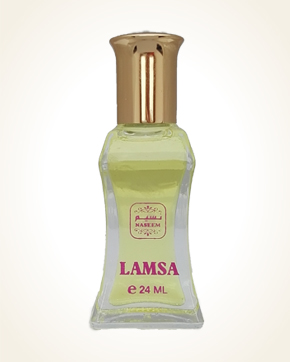 Naseem Lamsa
Concentrated Perfume Oil 24 ml
In Stock
Concentrated Perfume Oil Sample 0.5 ml
In Stock
Description
Wonderful floral with apricot peach cloud - this is Lamsa, now also in roll-on design.
The combination of the white flowers of jasmine and gentle violet suggests a charming seductive subtlety. A delicate white rose in a unique combination with light tones of peach and apricot, is a tenderly carried chord, developing its tones into a rare orchid with lemon grass. There will also be a clear scent of peony with a light touch of green apple.
The end of the composition is in a fruity, mandarin orange hug embracing the soft vanilla and the tender sensuality of the musk.

Customer Reviews (1)
Greetings to Mr. Lenka and Mr. Jana :-) and I look forward to it and I can not wait for Naseem Lamsy, which I still have in the oil package. I also had a Lamsa pen spray, which I have run out of, but I always fill it with water and drop 3 drops of oil into it and always carry it with me, and whenever I have a desire I get sprayed and feel blissful .... thank you :-) and have a nice day :-) (5.6.2019 - Romana V.)

Have you tried one of our perfumes?
Let us know
how you like it!
You might also like