Naseem Khalifa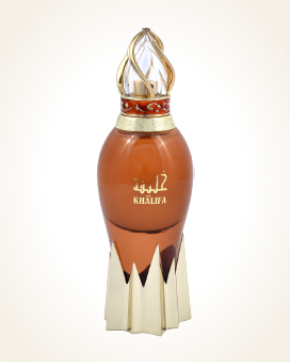 Naseem Khalifa
Aqua perfume 50 ml
In Stock
Aqua perfume Sample 1 ml
In Stock
Description
Khalifa Aqua Perfume is a sweetly tempting perfume that is used especially for clothing. It has a very wide spray with a spray that spreads over the entire surface of the clothing, on which the scent will remain for a very long time. The perfume is made without the use of alcohol and shake the bottle well before use to combine the fragrant ingredients.
Vanilla, rose, sandalwood and musk - it is a captivating passion, it is a delicious fusion and elegance abounding in sensuality.
The rose develops into velvety touches, bringing together creamy smoothing sandalwood with which creamy vanilla goes hand in hand. Vanilla shows a deliciously whipped cream and a gourmet gourmet tone, which slowly dissolves into tufts of sparkling musk.
The chords of the Khalifa perfume are softly warm thanks to the fruity gourmet echo of the sweet ripe fruit and they will envelop you as fluffily as the finest cashmere pashmina.

Customer Reviews (2)
Hello Mrs. Lenko, I read the reviews on perfumes that Mr. G. G. writes and I just shake my head, everyone agrees, as you write it, Mrs. I probably have a completely different ph, :-( or what causes it, how it smells like everyone. When I got upset, Khalifa just rose? I have it and it's beautifully sweet in vanilla.

Greetings to Anabis, hunting looking for a sweet vanilla scent. I ordered a sample of Naseem Khalifa - Aqua perfume, I say it to my clothes so my skin will not affect it ... Roses, roses and just roses. Who loves them will be thrilled. I'm looking for more. (04/01/2021 - Marta G.)

Have you tried one of our perfumes?
Let us know
how you like it!
You might also like