Naseem Jazi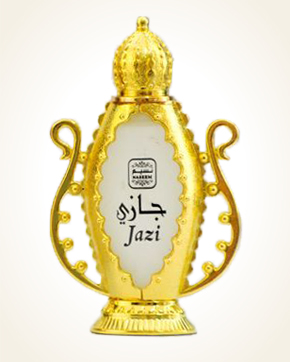 Naseem Jazi
Concentrated Perfume Oil 20 ml
In Stock
Concentrated Perfume Oil Sample 0.5 ml
In Stock
Description
Fruity caress crunchy apples with a light echo in green tones of violet leaves, playing its other chords in a softly cuddly musk.
We continue the delicate sounding tones until the ethereal-looking lotus flowers, with their purity, float into the tenderly subtle nuances of the fresh juiciness of the pear.
The bitterly sweet lure of grapefruits, white-blooming jasmine and the cool beauty of lilies of the valley make the scent turn soft to creamy sandalwood with a delicious line of vanilla pods.

Customer Reviews (3)
Hello Mrs. Hana, thank you for the very fast delivery and your fragrant gift. Naseem Jazi's perfume has a beautiful bottle, it is a finished work of art, including the packaging of course. The bottle fits the scent beautifully. It's actually 2 in 1. As for describing and commenting on individual scents, I can't do it like other customers. Of course, I recognize a fruity or floral scent, but otherwise it is important for me that the scent is pleasant to me, it does not give me a headache, it is not heavy, suffocating. It just has to smell good to me. And that both after application and after spreading. And Naseem Jazi lives up to this. Thank you again. (15/05/2023 - Anna K.)

I bought the Naseem Jazi perfume and LOVE IT! The smell last forever. Definitely one of my favorites!!! (15.03.2023 - Angela, USA)

I got Naseem Jazi perfume oil from my daughter's boyfriend for Christmas. (1/13/2020 - Emilia B.)

Have you tried one of our perfumes?
Let us know
how you like it!
You might also like