Naseem Arzan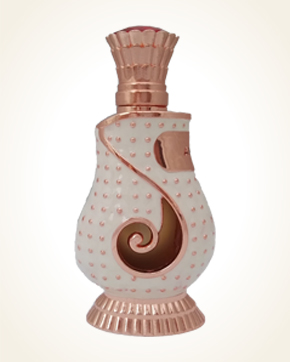 Naseem Arzan
Concentrated Perfume Oil 16 ml
In Stock
Concentrated Perfume Oil 0.5 ml Sample
In Stock
Description
Tenderly intoxicating scent of flowers with a few tones of fruit, envelop an intense puff of hot coffee and black musk. This is how we introduce our first fragrance drop, the Arzan perfume.
Creamy echoes of vanilla and gourmet caramel alternate with chords of magically sounding roses, with the delicate beauty of violets.
Another delicious lure is triggered by ripe citruses dominated by the sweetness of tangerines and the juiciness of oranges. The fruit melts into the honey bed of velvety ambergris, which, with the help of an earthy herbal patchouli, sinks into the seductive tones of the sensual musk that completes this journey.

Customer Reviews (3)
Good day to the magical fairies of the fairy world called Anabis, the package arrived in perfect order as always and just as quickly. Your lines and magical fragrant elixirs are wobbling my head again and glowing my senses. No more without them !!! Arzan ... delightful magical delusion, just close your eyes and let yourself be pampered with the beauty of perfume so blushed that your breath is hidden. Arzan is not only a vanilla treat decorated with caramel, candied oranges and lemon zest, served with quality hot black Arabic coffee, but also a sensual passionate beauty pampered with honey from ambergris and patchouli. Dark long hair is decorated with a red rose. The musk is provocative here, at least that's how I perceive perfume on my skin. I feel Violet as gently as when I walk the meadow in early summer, and the gentle breeze here and there carries her delicate scent to me. I thank Ms. Renata K. for her review, it was her decision, because I loved Cafe Intense from Montale before Anabis. I don't find such a resemblance, but there is definitely a link. But Arzan is a completely different league, it is a gem !!! (07/02/2018 - Lenka S.)

Arzan after five hours ... I'm enchanted! The intensity of the aroma does not change, but it works and spells all the time. The initial creamy and sweetness of vanilla disappeared, after the ambergris remained a delicate honey, and the boiling delicious liquor gradually turned into a freshly ground coffee with a pinch of cardamom. Now the aroma of freshly roasted coffee beans and the sensual musk dominates. The vanilla left only a pinch, dried and crushed to a fine powder. Arzan certainly will not dazzle everyone, but you absolutely won! Another Valentine in the cold days. (07/02/2018 - Lenka S.)

Hello, Mrs. Lenko, I just received a package that I felt beautifully with coffee and roses after opening, the aroma of Arzan is wonderful (and now the whole office smells very intense) ... Let me tell you that this is a more beautiful version of Café Intense from Pierre Montale. Beautiful fragrance ..... I look forward to smelling my skin. :-) Have a nice rest of the day. I cordially greet you and Mrs. Jana (15.11.2017 - Renata K.)

Have you tried one of our perfumes?
Let us know
how you like it!
You might also like